Cedar Plank Salmon prepared simply with a sweet and spicy chipotle dry rub, cooked on the grill over a cedar plank giving it that smoked influence, and finished with a sweet maple syrup glaze. Sweet, spicy, and absolutely incredible. This recipe is what landed us our cookbook deal, and is the exact recipe that graces the cover of our critically acclaimed book!
Jump to:
There are only a very small handful of recipes that are available both in our cookbook, and also free online. This is one of them, and I couldn't be more excited since this is one of my favorite recipes of all time!
We love playing around with different flavors when it comes to grilled salmon. It doesn't take much time to grill, so cooking it on a cedar plank can help you get some of that great smoky flavor when you cook it hot and fast. It only takes 20 minutes, and the steps are easy.
Soak the plank
Fire up the grill, with two-zone grilling
Season salmon
Grill and glaze
Buying Salmon
This recipe is best with an entire filet of salmon. In terms of the type we tend to buy wild caught Coho or King salmon for the thickness. If you find smaller, thinner, salmon then adjust the cooking time down (as thinner cuts will cook quicker).
Know that farm raised salmon will have a little more fat content. We prefer wild.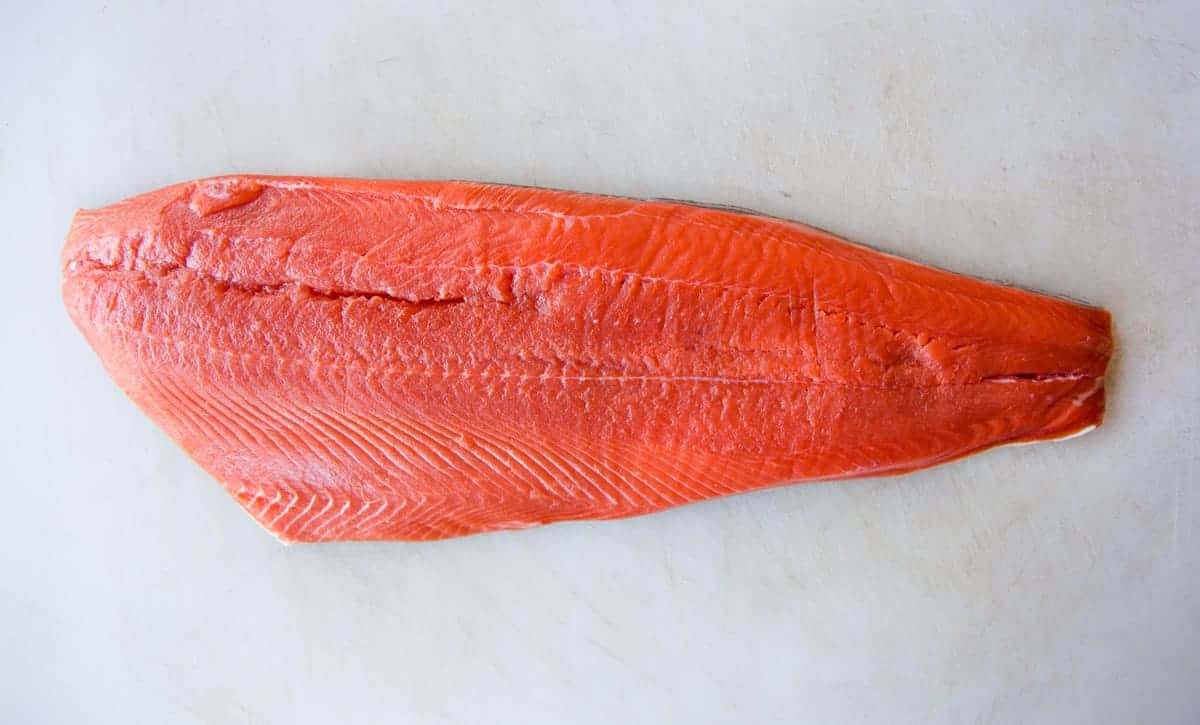 Tips for Cedar Plank Grilled Salmon
When buying salmon be sure to ask the fish monger to remove the pin bones (the small bones along the filet).
Plan a third of a pound of salmon per person.
If you want to serve individual salmon steaks versus the filet, cut the filet up PRIOR to cooking. This avoids tearing the salmon when it's cooked.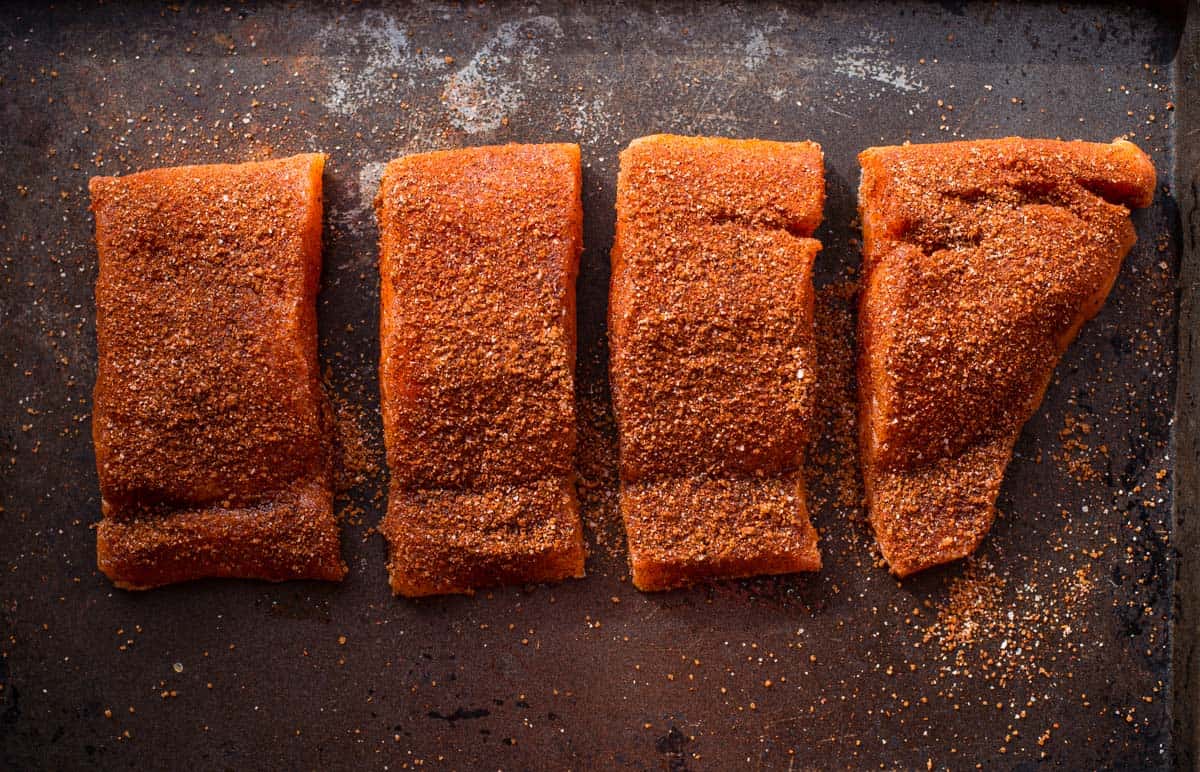 Preparation
Source a food safe cedar or alder plank board. They should be untreated and made for grilling.
It is very important to properly prepare your cedar plank before you grill. Obviously, wood + fire = more fire. The last thing you want is your cedar plank AND salmon filet to go up in a blaze of glory.
Soak your cedar plank, fully submerged in water, for at least 30 minutes! Ideally 60. No short cuts here, keep it in for the full 30 minutes or you're gonna have a fire on your hands, and not the good kind of fire if you know what I mean! And contrary to some opinions, adding other flavors, like soaking in wine or other beverages, won't impart any additional flavor. Water is all you need.
Now, pat your soaked cedar plank dry to absorb the excess moisture, and you are ready to season your Cedar Plank Salmon!
Chipotle Dry Rub
Salmon has amazing flavor naturally, especially when you add the flavor of a cedar plank. However, we want to add a few more layers of flavor for this recipe. The best way to do that is by adding a Chipotle Salmon Rub before you grill.
The ingredients for our Chipotle Salmon Rub include:
brown sugar
chili powder
chipotle powder
cumin
salt and pepper
This combination gives it a sweet and smoky flavor with a little heat at the end.
*Note: you may not use all of the dry rub on your salmon depending on the exact size of your fish. Just save the rest in a small jar and use for future recipes. This rub is also great on pork and chicken.
How to Grill Cedar Plank Salmon
Pre-Heat Grill: Prepare grill for indirect cooking.
Season Salmon: Coat your fish with olive oil and liberally season it with the salmon dry rub, then place it on the the cedar plank.
Grill Salmon ON the Cedar Plank: Place the Cedar Plank Salmon over direct heat. Cook for approximately 12-15 minutes, monitoring it for flames, until the internal temperature of the salmon reached 125 degrees, using a digital thermometer.
Move Cedar Plank: After the salmon has reached 125 degrees move to the indirect side leaving grill uncovered, and then coat with the maple syrup, and let sit for about 1-2 minute to caramelize, or until the internal temperature of the salmon reaches 130 degrees.
Remove from heat and rest for roughly 5 minutes. The carry-over heat will continue to cook the salmon to 135 degrees (medium rare) over that time and the maple syrup will firm up slightly.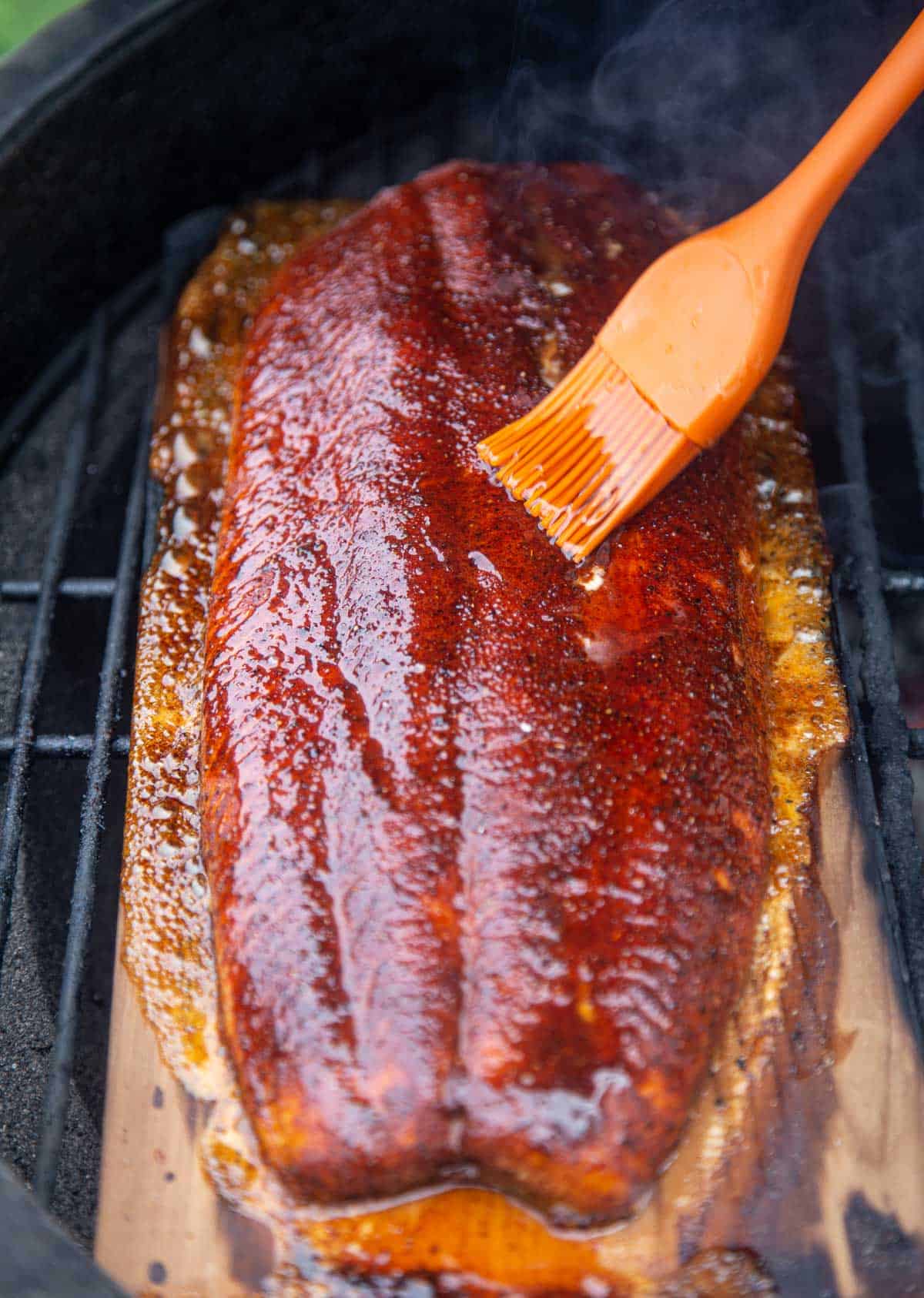 Time to serve and enjoy.
Frequently Asked Questions
Can You Reuse a Cedar Plank?
No, once you have used the cedar plank it is not reusable. Between raw fish and the primary flavor being consumed from the fire, it should be disposed of. If you have a smaller cut, consider sawing the plank in half (before cooking) so you can make it last.
Do I Need to Brine the Salmon?
You can brine if you wish, but this recipe does not require it and it actually tastes much better without a brine highlighting the salmon flavors.
When is Salmon Done?
Salmon is like steak. If you trust where it came from (i.e. you purchased quality salmon) you can safely cook it rare/medium rare/well done. We like our salmon cooked to medium rare, or 135 degrees Fahrenheit, to maintain a juicy and super tender salmon. The USDA recommends all salmon to be cooked to 145 degrees F.
Wine Pairing for Cedar Plank Salmon
I have two go-to pairings for this dish – a semi-sweet Riesling and new world style Pinot Noir.
Salmon, in general, tends to have delicate flavors and textures, but this one, coated in that sweet, spicy, and savory rub and maple glaze, offers the opportunity to pair it with something a little bolder. If you go for a medium-bodied fruity Pinot Noir from California, for example, you'll find a nice match up in bold fruit balancing out the flavors in the rub, yet smooth enough to pair with that tender delicate meat under the rub.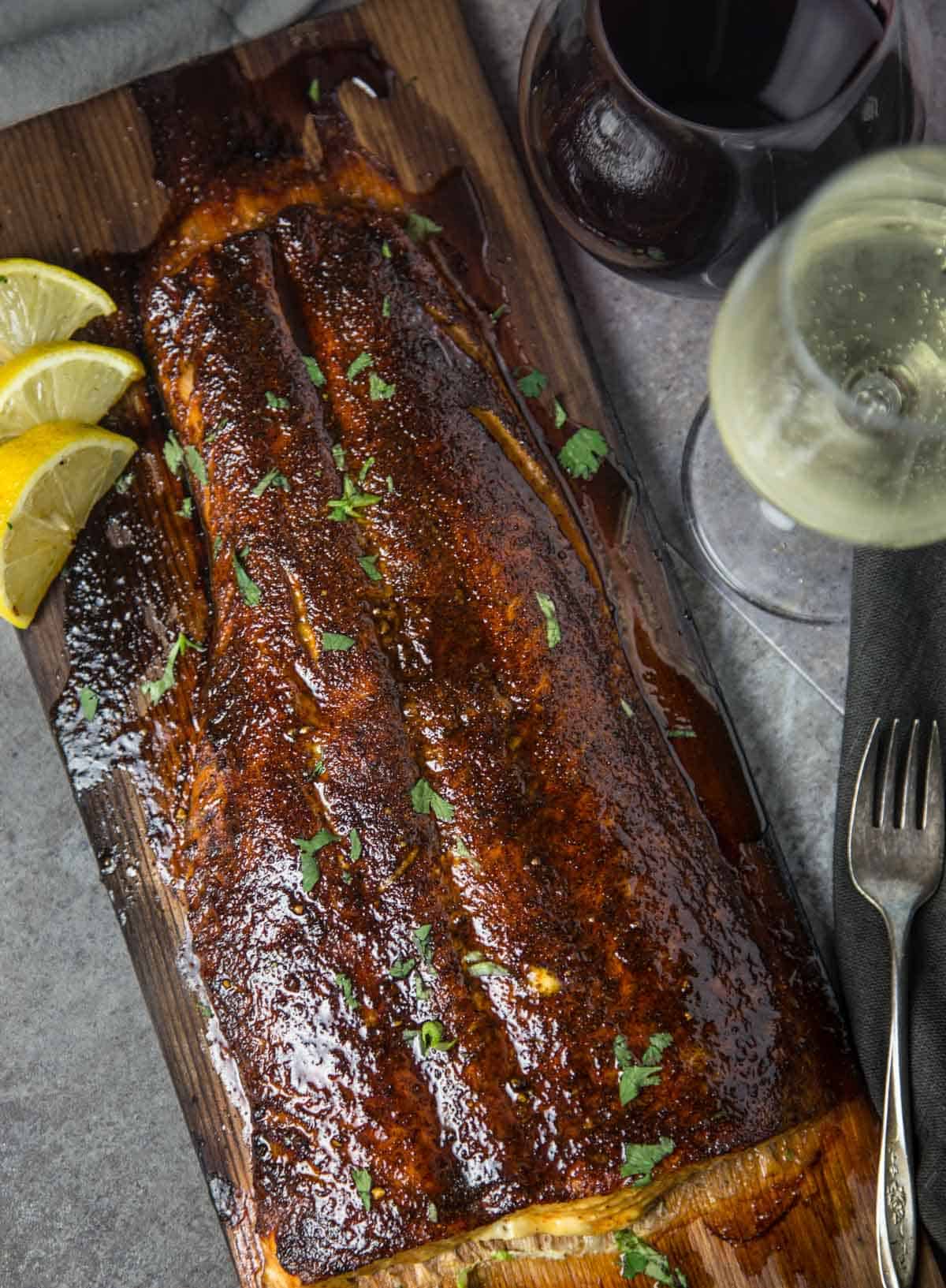 Alternatively, we love Riesling with this. If you find the dry rub to be on the spicy side (this will depend on the strength of the chipotle powder you have), the Riesling will provide a refreshing and sweet contrast to the heat. It will also balance well with the sweetness in the dry rub and maple. It's a pretty versatile wine that works great with the flavors in this dish. Just look for one on the slightly sweet side (you don't want a bone dry Riesling for this, and nothing on the sticky sweet side).
More Salmon Recipes for the Grill or Smoker
If you like this recipe we'd truly appreciate it if you would give this recipe a star review! And if you share any of your pics on Instagram use the hashtag #vindulge. We LOVE to see it when you cook our recipes. 
This recipe was originally published in March of 2018 and updated with new process photos, and details in the recipe and similar recipe recommendations.
---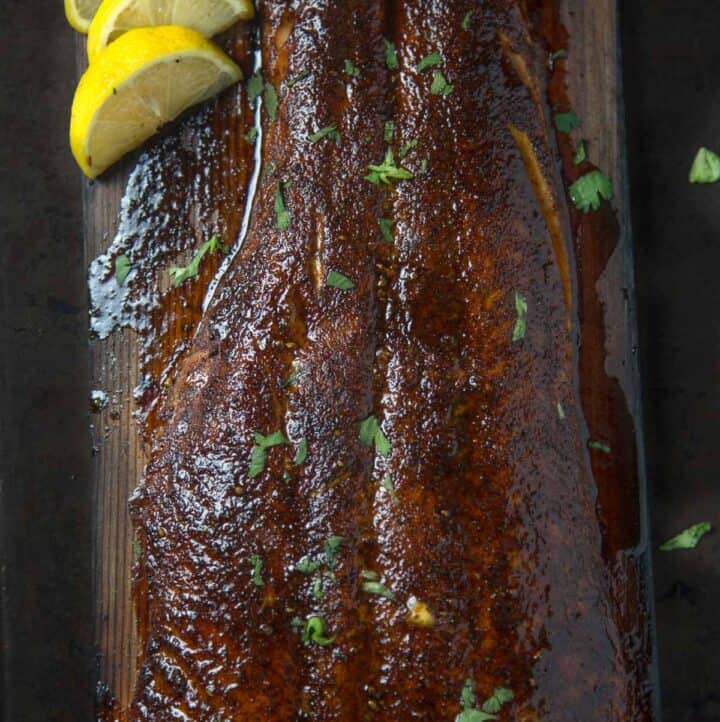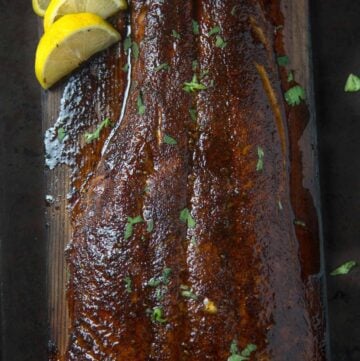 Cedar Plank Salmon Recipe with Maple Chipotle Glaze
Maple Chipotle Cedar Plank Salmon is an easy way to grill salmon and add smoky flavor with a cedar plank. Finish with a maple glaze for the best cedar plank salmon recipe.
Servings: 6 servings
Calories: 226kcal
Cost: $25
Prevent your screen from going dark
Instructions
Soak the Cedar Plank: fully submerged in water, for 30 minutes (up to 60 minutes). Pat dry after removing from water. 

Make the Dry Rub: combine dry rub ingredients in a small bowl.

Prepare Grill for Indirect Cooking: targeting 450 degrees in the cooking chamber.

Prepare Salmon: coat salmon with olive oil, and then sprinkle about 2 tablespoons of the dry rub over the salmon liberally (you may have some dry rub leftover).

Grill Salmon: Place seasoned salmon on the cedar plank, and place on direct heat for up to 15 minutes or until the salmon reaches an internal temperature of 120 degrees. While the salmon is cooking, place the lemon half over direct heat and cook 4-5 minutes, until char marks appear.

Finish over Indirect Heat: Transfer the salmon and cedar plank to indirect heat, and glaze with the maple syrup using a brush, and continue cooking until the internal temperature reaches 130 degrees. Remove from the grill. Carry over cooking will continue cooking the salmon to 135 degrees.

Let rest for five minutes and then slice and serve. If using the grilled lemon, squeeze some of the grilled lemon over the top when serving.
Notes
* Depending on the size of your salmon, you may have some leftover dry rub. Make sure to liberally coat the salmon though. Don't be shy! 
Don't reuse the cedar plank.
TIPS
When buying salmon be sure to ask the fish monger to remove the pin bones (the small bones along the filet).
Plan a third of a pound of salmon per person.
If you want to serve individual salmon steaks versus the filet, cut the filet up PRIOR to cooking. This avoids tearing the salmon when it's cooked.
Nutrition
Calories: 226kcal | Carbohydrates: 11g | Protein: 23g | Fat: 10g | Saturated Fat: 1g | Polyunsaturated Fat: 3g | Monounsaturated Fat: 4g | Cholesterol: 62mg | Sodium: 463mg | Potassium: 626mg | Fiber: 1g | Sugar: 9g | Vitamin A: 450IU | Vitamin C: 5mg | Calcium: 37mg | Iron: 2mg
---