Grape pickers across England and Wales have now hung up their coats. To the relief of many, the 2021 harvest in England and Wales is complete. After a string of warm years, the wetter and cooler 2021 vintage has proved challenging. Reports indicate difficult ripening conditions, reduced yields, and a shortage of workers.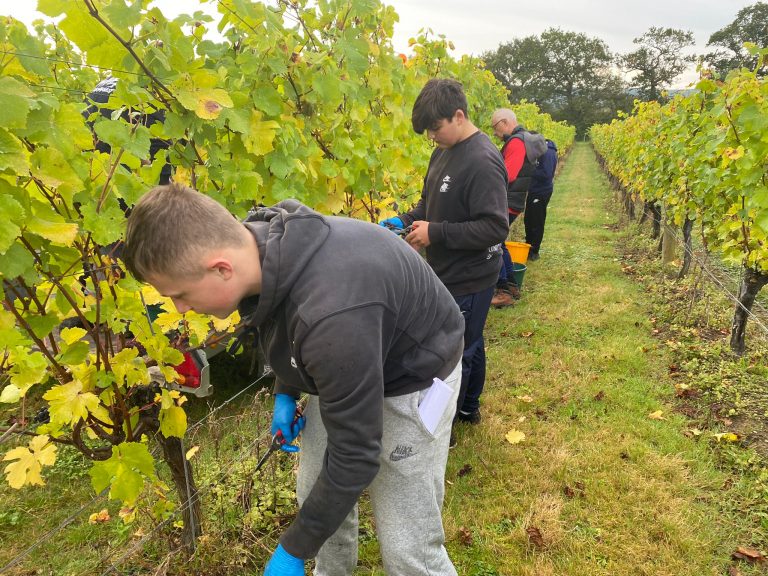 The summer of 2021 was cooler, wetter, and less sunny than the previous years on average. Other than some peaks in May, July and September, temperatures hovered several degrees below the previous three-year average (2018-20).
"It was a really challenging summer. We had frost in Spring and rain at flowering. Then it was overcast and there was quite a serious lack of sun hours, even though it was warm", said Simon Roberts, Head winemaker at Ridgeview Wine Estate in Sussex.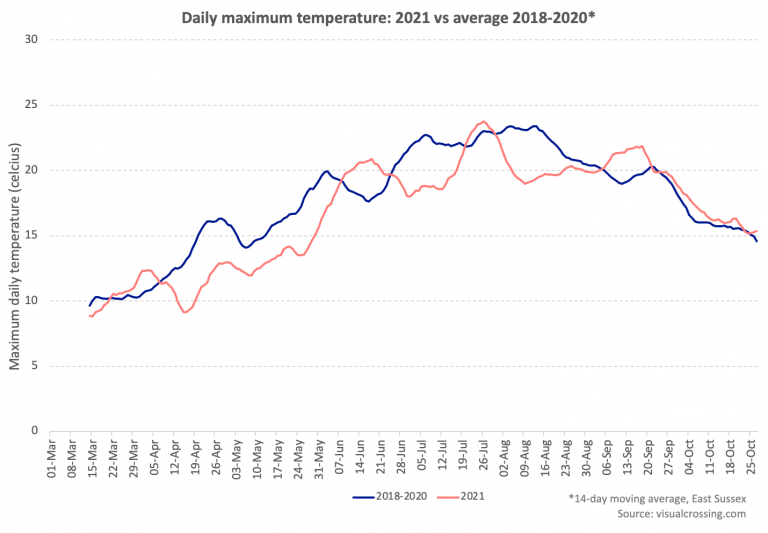 At Ridgeview's estate vineyards, harvest started on October 17th, three weeks later than in 2020. This followed a slow start to the season. Budburst was just five days later than last year, but flowering didn't begin until July 6th, over three behind 2020. Veraison, which started on September 7th, was two weeks behind.
Despite this, he says that the juice still shows high quality: "It has been a really long growing season. There is still complexity, but the juice is more linear – less tropical and more citrus."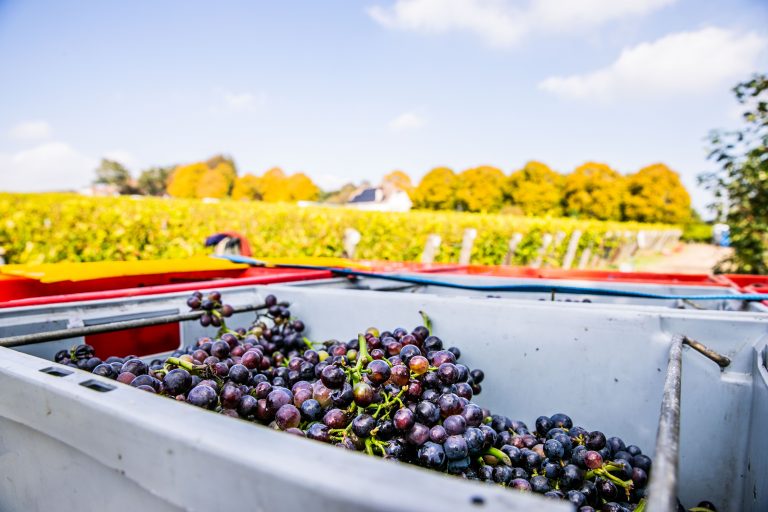 Rainfall during summer was up significantly on previous years, contributing to disease pressure in the vineyards. A late harvest also paved the way for bird damage and further disease.
Ian Kellett, owner of Hambledon Vineyard, didn't mince his words: "It was the worst year for Downey Mildew I have seen since I started in viticulture."
This meant that keeping on top of spray schedules and summer pruning was critical for grape health.
Over in Somerset, a change in vineyard management saved Aldwick Estate from the worst of the problems. It began to change its pruning system last year, arching the canes (using the pendelbogan method) and lowering the fruiting cane. The canopy became more even and received more sunlight – good for growing clean and ripe grapes.
Managing Director Sandy Luck suggests that this was largely responsible for the estate's "huge crop" this year, which included record yields of Bacchus, and sugar and acidity levels close to 2020.
This appears to have been a rare exception. "Yields were awful", said Kellett – a common sentiment among growers.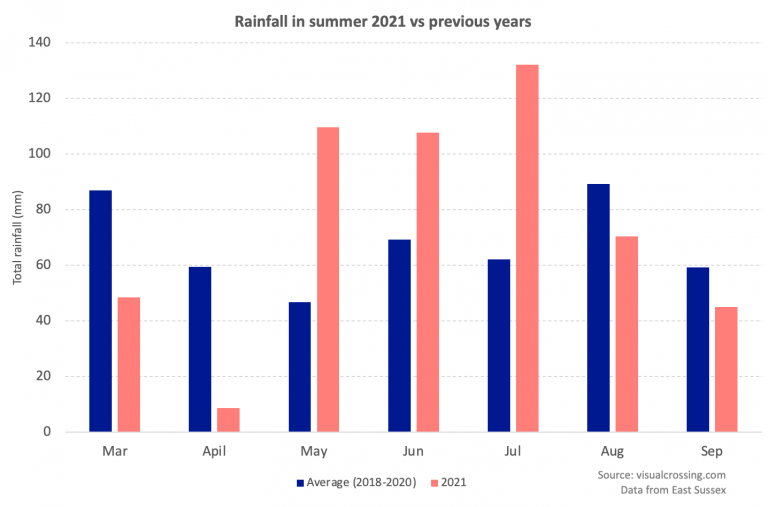 Labour shortages have caused additional challenges this year, particularly for growers who previously relied on a European workforce to pick grapes and work in the cellar.
In mid-October, the BBC reported that Hambledon was "up against the clock" to recruit enough local workers to pick before wet weather and hit in.
The grapes were – thankfully – saved, "thanks to a large number of locals joining in and lending a hand". But inexperienced locals can't match the speed of skilled agricultural workers. "Next year we'll picking four or five times as many grapes. We'll need people who can pick faster, or else we'll need hundreds of locals", says Kellett.
Ridgeview also struggled at first. It has previously used a vineyard management company to contract workers, who mainly traveled from Romania. This year, recruitment was handled in house.
"Even though it's been really tough, it's been a really good experience overall", said Roberts. He said that picking was a "lovely experience this year", carried out by enthusiastic local workers.
The winery also partnered with Plumpton College to create Ridgeview Academy, a scheme aimed at people on universal credit. Participants attended training and workshops at Plumpton and Ridgeview, with a guaranteed job interview at the end. Six attendees were offered and accepted work over harvest – four as press loaders in the winery, and two as pickers.
Other growers, who had already started to use local workers, didn't face the same difficulties. "Luckily we made the decision to develop a local workforce some years ago", said Mark Driver from Rathfinny Wine Estate in Sussex.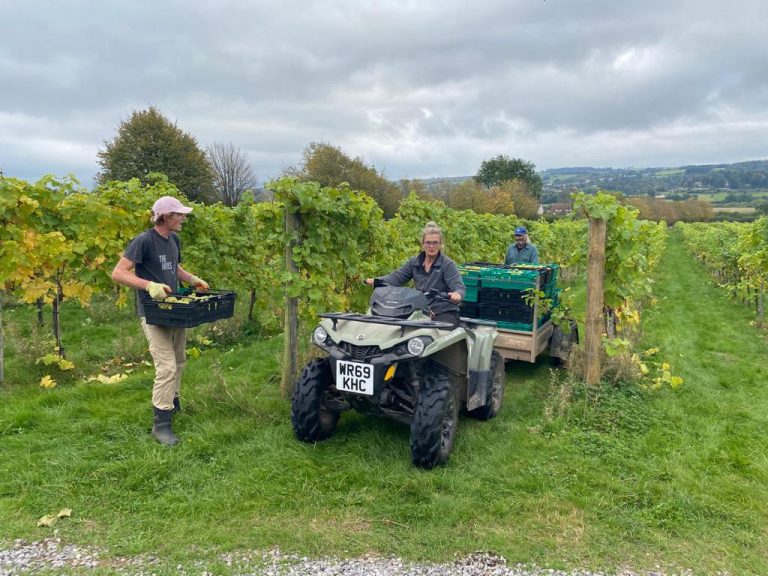 So what can we expect to enjoy from 2021?
With reduced yields and cooler conditions, growers are faced with decisions on the range that they'll produce this year. Still wines – especially red – will likely be down, as will vintage sparkling and special cuvees.
Roberts says that Ridgeview will probably make the limited release (vintage) Blanc de Blancs, but it's unlikely that any of the other limited release wines will be produced due to low volumes.
"It's safe to say that we won't be declaring a vintage", says Trevor Clough of Digby Fine English, who described it as an "NV Brut year, which will make a beautiful wine." Which is, surely, something to look forward to.
Weather data sourced from Visual Crossing Weather.