Douglas Blyde interviews the bar manager of Ginger Lily, a luxurious bar inside Europe's first Pan Pacific hotel in the City of London.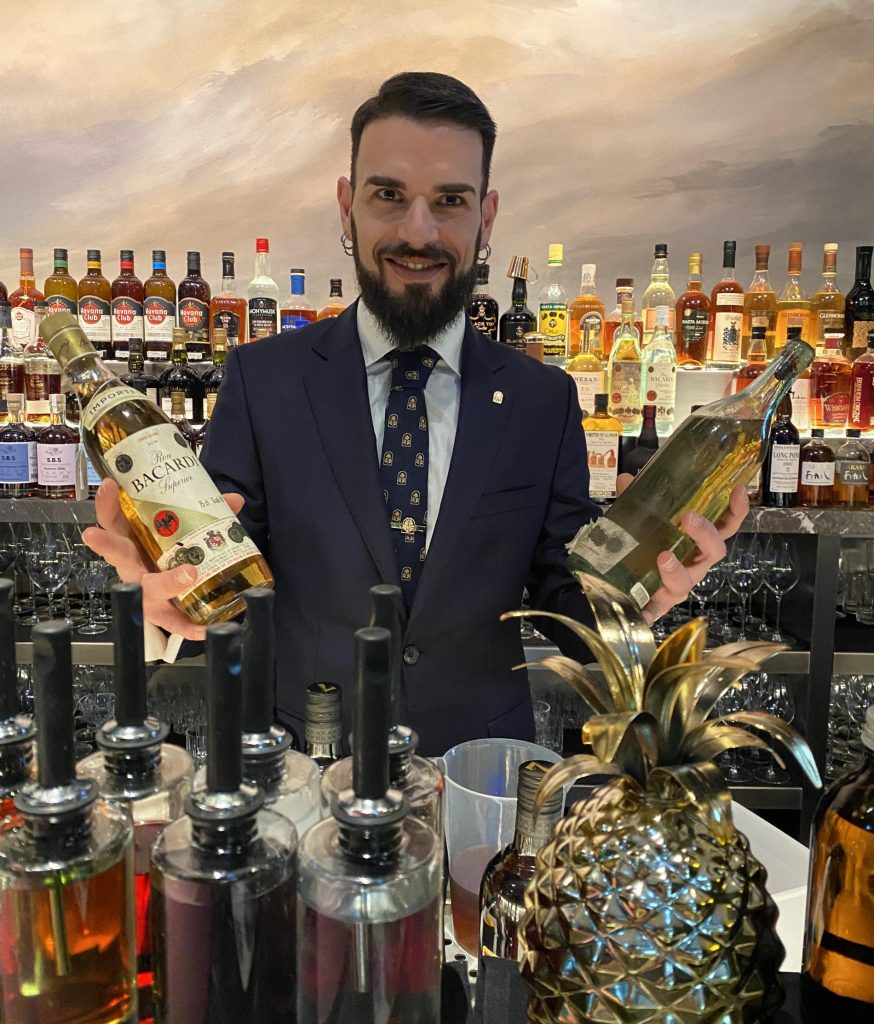 What does 'Ginger Lily' refer to?
Native to Singapore, the ginger lily is a symbol of strength and commitment – attributes which reflect the ethos of Pan Pacific. Being a Singaporean company, the bestselling Aphrodite is, incidentally, my twist on the Singapore Sling using ratafia liqueur instead of cherry brandy yielding more body. Flowers are important to the bar, with the theme – currently birds of paradise at the beginning of the curvaceous Italian marble counter – changing each Friday. Somebody once called the bar Tiger Lily by mistake which we weren't that happy about…
Is there another drink which reflects the bar?
The Mediterranean inspired, martini-style 'Medimar' featuring vodka, Vermouth Classico del Professore infused with basil, truffle oil, bitters and a Parmesan crisp garnish.
How long have you led the Ginger Lily team?
I've been with the company for seven months, and after tears and strife, with so much emotion invested in this bar, I'm so pleased Ginger Lily has finally opened. It is my second opening after Seabird atop The Hoxton in Southwark.
What do you look for when recruiting?
My cosmopolitan team from Argentina, France, Hong Kong, Italy and Spain brings lots of influences which, when combined, helps to create a memorable experience for our guests where we can connect with people, and share feelings and emotions simply through flavours. When you come for an interview, I need only five minutes to see if you have fire in your eyes – if you move me, you're into the family. And we never have 'issues' – we have 'concerns' and 'solutions'. Skills can be taught. As a team, we all make and serve and explain the menu; I polish glasses as much as anyone else. Together, we are united.
What is your aim for Ginger Lily?
I don't do this job for the glory, or for the money, but for the guest, which means attention to detail is everything, which is why we arrange the chairs to face the entrance at the beginning of service to emphasise the welcome.
How much of your job is about creativity?
Creativity applies as much to making a drink as it does to dealing with one of our 15 suppliers: if you miss the cut off for olives you won't be able to serve olives and will need to tell the guest why you don't have olives which is not a feeling you would want to experience. In terms of the rota, if you're not creative enough, you could end up with your team working 55 hours a week – and then they'll think it's not worth it. Which is why I'm working on a rota which reduces the amount of hours they need to work outside the hours of service. And creativity applies to the search for ingredients, such as sourcing dragon fruit for our 'Caitaya' cocktail, or Cici López cream of coconut for 'Wilson', our lighter take on a piña colada. Guests come, order a drink and receive a beautiful product and leave happy – they don't know how long we worked behind that to make the drinks appear so smoothly and quickly.
Where are you from?
Aged 23, I came to London from Naples in 2013, unable to speak English. I remember clearly getting off the National Express A9 bus beside Liverpool Street. One of my best friends offered me a back bar position at Soho House, where I worked a couple of tough years supporting the bartenders before moving to D&D's The Den at 98 Wardour Street. It was a beautiful experience to learn about pairing rums with cigars. And it was busy. As one of two bartenders, between our four hands we produced 600 drinks in a shift, starting at 1pm and finishing at 5am.
What spirit most motivates you?
I have a fine collection of rums including out of production bottles. Rum informs cocktails such as the 'Guacapa', which is a take on the Dark 'n' Stormy featuring aged rum, Amaro Montenegro, citrus and ginger beer.
How has the pandemic altered drinking habits in bars?
People are drinking less wine and beer and more cocktails, having had time at home to develop an interest in what's in their favourite drink. We want to become known as one of the best cocktail bars, offering something you can't make at home.
How do you relax?
I'm not that kind of guy. If I set goals, I'm not going to stop until I reach them. I want to make a lot of noise in the industry and lead my team to help Ginger Lily become amongst the best bars in London.
Which bar do you go to on your day off?
Milroy's in Soho.
What was the last book which moved you?
The Alchemist by Paolo Coelho.
Tell us something surprising about you?
When people see that I have piercings, they often ask if I also have tattoos and seem quite surprised when I say that I actually don't…
Ginger Lily – Pan Pacific Hotel, 80 Houndsditch, London, EC3A 7AB; 020 7118 6888; panpacific.com