Three years on from the launch of MMA legend Conor McGregor's Proper No. Twelve Irish Whiskey, the brand may be forced into a change of name. Here's why.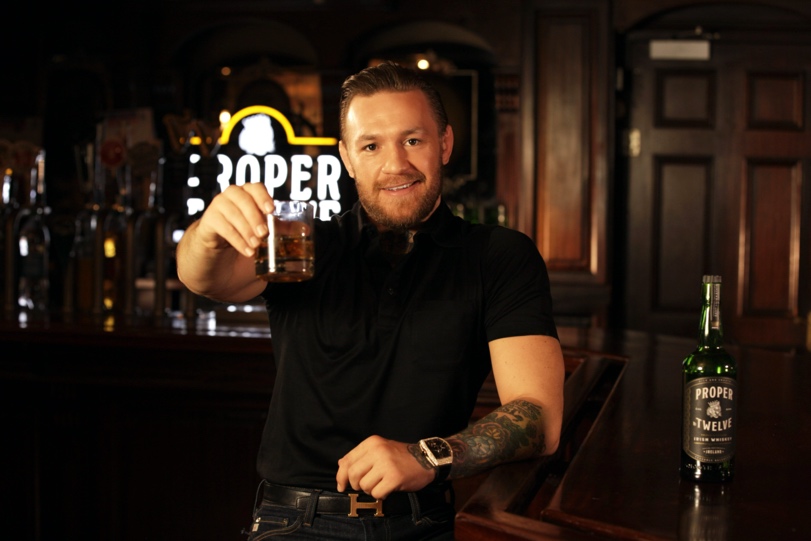 The Irish Whiskey Association (IWA) has proposed amendments to the regulations governing Irish whiskey, aiming to give producers "greater clarity and flexibility". It's a move that may force UFC star Conor McGregor to change the name of his whiskey.
Why?
According to the new proposals, "the labelling, packaging, advertising, or promotion of an Irish Whiskey must not include a reference to any number (however expressed), if the reference to that number may create a likelihood of confusion on the part of the public as to whether the number relates to the maturation period of the Irish Whiskey, its age or when it was distilled."
Conor McGregor's Proper No. Twelve Irish Whiskey is exactly the sort of brand that would fall foul of these new regulations, as the "Twelve" in the brand name refers to the area code of Crumlin, where McGregor grew up, rather than a twelve-year-aged whiskey.
The IWA's proposals are intend to safeguard the category's "rich heritage and traditions" and support sustainability efforts.
Legends drink Proper No. Twelve 🥃 @TheNotoriousMMA pic.twitter.com/s89YYfFNFL

— Proper No. Twelve (@ProperWhiskey) October 16, 2021
Per Hospitality Ireland, IWA technical committee chair Noel Sweeney said of the proposals"
"Irish whiskey's status as a protected geographic indication has played a key role in driving the global revival of Irish whiskey sales over recent years.
"Our GI is built on a strong set of rules, consistent with Irish whiskey's heritage and traditions. These proposed changes seek to provide greater clarity, efficiency and flexibility to Irish whiskey production processes in line with those heritage and traditions, while also promoting a more sustainable industry."
The IWA refused to comment on McGregor's potential branding issues when contacted by The Business Post, stating that it does not comment on individual cases.
Read More: Proximo Spirits acquires majority stake in Conor McGregor's Proper No. Twelve Irish Whiskey for a reported US$600m.