Cuban rum brand Eminente has taken up temporary residence in the Monte Cristo Hotel in Paris, offering guests the opportunity to discover Cuba through authentic food and design.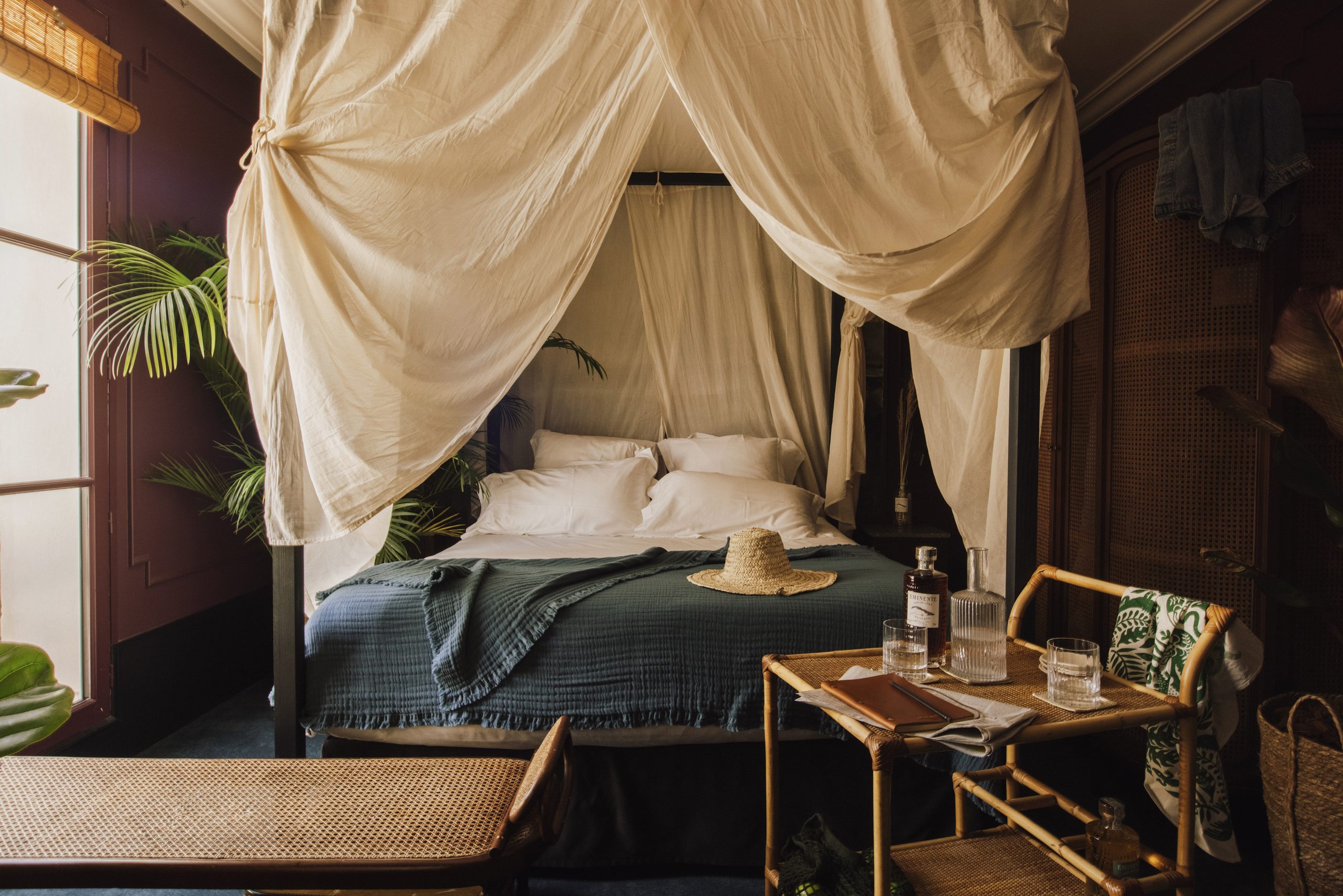 Hotel Eminente is a celebration of Cuba in the heart of Paris, and invites guests to learn about the culture through a bespoke food and drink menu and hotel redesign.
Adrian Nino, head bartender at the Monte Cristo bar, 1802, has created a selection of rum-based serves for the duration of the casa. His menu includes recipes that feature raw ingredients from Cuba, including tropical fruits, vegetables, spices and coffee.
Annabelle Cantarero, head chef at The Finca Tungasuk, has masterminded the restaurant menu. The Finca Tungasuk, owned by the chef and her husband, is located west of Havana and produces nearly 2,500 different species of fruit, vegetable and aromatic herbs, using ecological methods. All dishes served as part of Hotel Eminente are organically or responsibly farmed, and represent a contemporary twist on authentic Cuban cuisine.
Clandestina, the first sustainable and independent design label by a collective of talented Cuban designers located in Havana's old town, is also involved in the venture. The label's founders, Leire Fernández and Idania del Río, have designed a bag out of recycled materials which holds a bottle of Eminente and two tasting glasses. All proceeds will be donated to financing and sending medical equipment to Cuba.
Camille de Dominicis, co-founder of Eminente Rum, said: "This temporary flagship address dedicated to the five senses embodies a return to the roots of Eminente. With this small hotel lost in the middle of the jungle, we wanted to bring a wild Cuba into the heart of Paris."
"Hotel Eminente is an opportunity to give people an experience far from the typical Cuban stereotypes and honour these great wild and green spaces, with incredible biodiversity. It is also a chance to discover the Cuban way of life."
Open for booking from now until 12 December, Hotel Eminente has 20 rooms available via a 24-hour offer, from €300. The offer includes one night for two guests, breakfast, Cuban dinner, two Eminente cocktails per person and masterclass, and one bottle of Eminente Reserva, as well as private use of the pool.
In other Cuban drinks news, Havana Club has launched yet another collaboration with rap artist Skepta. Read more on that here.