Krug launched its vintage expression from the highly-rated 2008 vintage in London yesterday, and we taste the Champagne, and reveal its more unusual facets.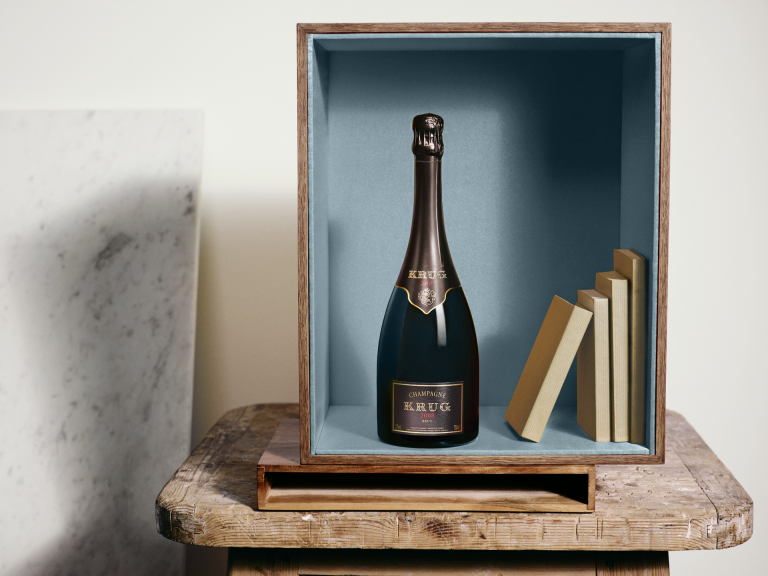 The Champagne is notable not just for the harvest it hails from – 2008 was a "superb vintage" according to chef de cave Julie Cavil – but also due to the blend of grapes in this particular year.
In what Cavil believes may be a first for Krug, there was more Meunier in the vintage cuvée than Chardonnay, although the dominant grape in the blend was Pinot Noir.
The high proportion of Meunier (25%), compared to 22% for Chardonnay is remarkable because Meunier is a grape that rarely features in vintage Champagnes, let alone prestige cuvées, because it tends to produce wines that are deemed too fast-maturing for long-lived fizz.
However, Krug selects the wines for its cuvées 'blind' – meaning that the cellar master is not aware of the base grape when tasting, and therefore chooses the best expressions, whatever the variety.
In this case, some of the most outstanding wines were from a plot of Meunier on south facing slopes in the Marne Valley village of Sainte-Gemme, which is a particularly fine source of this grape, providing a regular component for Krug, particularly its multi-vintage expression, Grand Cuvée.
Speaking about the Meunier from Sainte-Gemme in 2008 specifically, Cavil said it "was incredible, getting 18 out of 20 in the tasting room, and we decided it would be perfect for the 2008."
While she told db that she believed this was the first time that Krug vintage had comprised more Meunier than Chardonnay, she didn't think this was the highest proportion of Meunier in the history of the house's cuvées.
In terms of the other grapes in the blend, she said that "any more Chardonnay would have been too much", opting to increase the proportion of Pinot Noir in the 2008, which, while a great year, was a cool one by current standards.
Cavil explained, "We class 2008 among the cool years in Champagne, there was a lack of sun, it was a perfectly classic northern climate, just not one that we have seen for a while now in Champagne."
Importantly, Cavil added that 2008 may have been a relatively cool vintage, but it was one "without extremes", which meant that the grapes "ripened slowly, and regularly, there were no jerks, which led to a wine of great elegance, and one that is well-structured."
Continuing, she said, "It is straight to the point, classic, and long, and the wines were austere at the beginning, which for me is a good sign; when you have to wait, it is a good sign for the future."
For these reasons, Krug has described the 2008 as being a "classic beauty", in contrast to the previous vintage release from the warm 2006 vintage, which was called "capricious indulgence" by the house.
As one of the first people to try Krug 2008, below I've reproduced my tasting note from yesterday's launch event – which was held in the unusual surroundings of The Tin House  in the London borough of Shepherd's Bush, a venue which Krug brand manager Jack Dundas said conformed to the Champagne's search for "unexpected spaces" that represented "rough luxury".
Krug 2008: the taste
Despite a deep colour, with light golden glints, the Champagne appears quite youthful aromatically, with scents of freshly-sliced apple, a touch of mint, lime and then subtle notes of roast coffee and brazil nut.
The palate also seems to show a surprising youth for a 13 year-old Champagne, with a taut profile, dominated by apple and citrus fruit, characters which seem to grow in intensity after the wine is swallowed, lifted by a firm acidity, and carried by a saltiness. And there are further layers of flavour, with a touch of candied orange, beeswax, creamy coffee, nuts and pastry, along with a chalky texture to give a fine, mouth-coating dry sensation that lingers and refreshes. While it's a Champagne with a great breadth of flavours, it has a linear structure, suggesting it will reward further cellaring.
Indeed, despite having spent 12 years resting on its lees in Krug's cellars, followed by a further year ageing after disgorgement, the Champagne is still "a baby" in the words of chef de cave Julie Cavil, who says that it will open, soften and reveal even more in another six months time.
Krug 2008: the facts
Dosage: 4-5g/l
Ageing: 12 years
Disgorgement date: late 2019
Grape varieties: Pinot Noir (53%) – primarily from Krug's vineyards in Montagne de Reims Sud, including Aÿ, Mareuil, Bouzy and Ambonnay – Meunier (25%) and Chardonnay (22%).
Price: £265 (UK RRP)
Read more