New Realm's distilling arm ramped up big this summer, launching spirits in both on and off-premise retail.
So let's get real about New Realm Savannah. The location brought New Realm Vodka and a line of RTDs into the world that to this day are still doing quite well. And yet, despite high hopes for the city covered in Spanish moss, there were a plethora of factors that constantly worked against it. New Realm had to take an "L" on Savannah but the spirits program wasn't done.
New Realm Brewing appeared out of seemingly nowhere in 2018 with the largest opening brewing capacity in Georgia's history (around 20,000 barrels). They blew through that capacity in just months, and not long after, the brewery found itself with a second location in Virginia Beach. After making such an aggressive mark on the beer world, naturally, the spirits world was next. That's where Savannah, Georgia, came to be.
Back to Atlanta.
Inside New Realm's Atlanta brewery was a small barrel room used mostly for barrel-aged beers. It morphed in a little event space for private parties or the occasional beer dinner. That's where New Realm resurrected the spirits program, putting in a whole new distillery, after selling the Savannah still and buying a new hybrid still. Kevin Ford, Master Distiller, with a previous history at Buffalo Distillery heads up the program, and just like New Realm's beer program, lightning is striking again.
Here in summer 2023, a craft distilling program that once seemed ancillary to New Realm's vision is front and center. Anything subtle about New Realm Distilling can be considered a thing of the past, with Ford running the show. He's a pretty humble and down to earth distiller who has basically cannonballed into the deep end of the booze pool in Atlanta and beyond.
"We really didn't want to do this the way it's been done before."
If you want to source bourbon for your own program, most of it will come come from one of three different distilleries. To Ford, that would be basically checking boxes. "Same juice, different bottle. That didn't sit well with me," he says. So while New Realm's 100% in-house bourbon ages, New Realm did something a little different – sourcing bourbon from small, younger Texas and Kentucky distillers and blending it at home. The result is a bourbon blend with hints of toasted walnut and brown sugar that hit the market initially in April 2022. New Realm's 100% in-house bourbon is aging as you read this.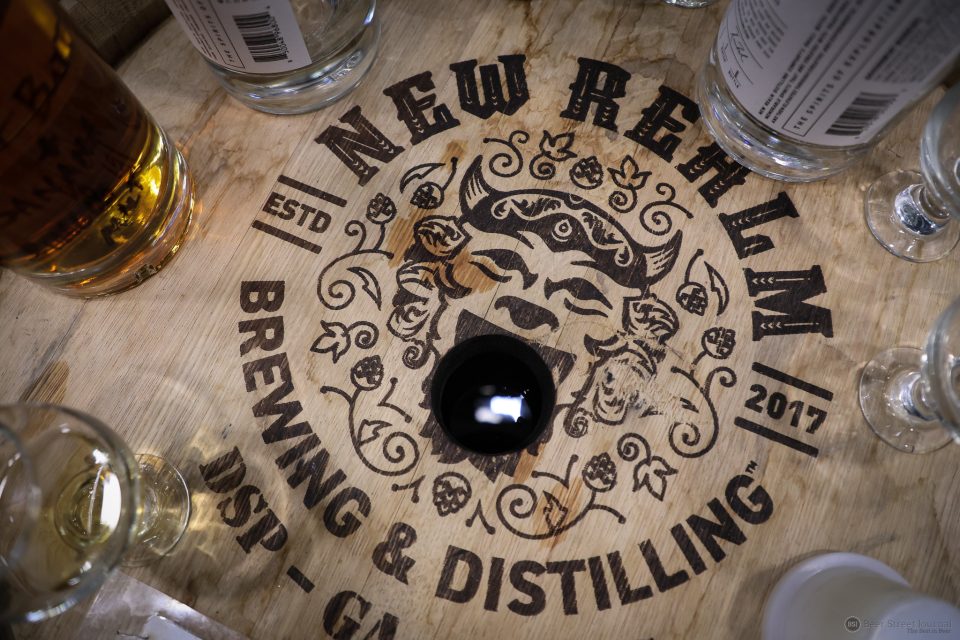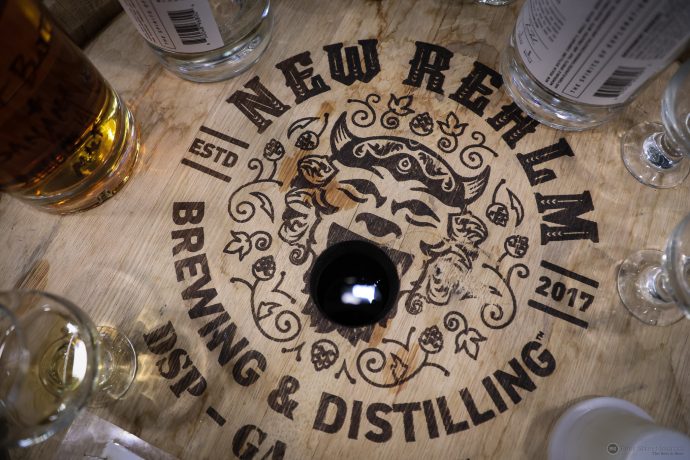 Vodka. Gin. Rum. Agave.
Vodka is fairly easy and quick to make, which is why almost every burgeoning spirits program starts with it. Incidentally, New Realm Vodka sells extremely well at the Atlanta location. Rum, Gin and Tequila are a little more complicated if you want to do it right. Craft beer brewing is a constant exploration, so why can't distilling be as well? 
The goal is to be a little different. That meant not buying liquid and relabeling it. "That's back to checking boxes," Ford says. Kevin started with a standout legacy Jamaican rum producer, then distilling Savannah-made molasses and blending.
Producing tequila proved to be more complicated however, since the spirit is protected. If you want to call it tequila, it has to be made in Jalisco, Mexico. In the U.S. it's fairly common for a small distiller to buy bulk agave syrup and ferment it. "It's just not good that way, so we pushed in a different direction," Ford says. "We were going to do this the hard way by growing our own, but in the end we found a Mexican based producer that grows Blue Webber agave and roasts and extracts it for us," he adds. New Realm distills it in Atlanta, creating a spirit as close to authentic tequila as possible.
Introducing the "Cask Series" 
Spirits are a lot like beer. You need that limited release that piques interest. In this instance, it's less of a customer hook and more of a playground for Ford that will constantly change. This newly minted series uses specially sourced barrels like Oloroso Sherry and Madeira to create uniquely finished bourbons. 
Only half of the volume from these barrels has been bottled (in honor of the brewery's 5th birthday).  They have then been refilled with the flagship bourbon and racked away again for a while. This solera method guarantees this specialty series will constantly change.
Selling Faster Than We Can Sustain
"Vodka is our number one seller in Atlanta, and bourbon at Virginia Beach, and it's all selling faster than we can currently sustain," Ford says. It would seem after the last two years of drinking to survive, folks want to spend their money on good liquid. New Realm is distilling at both Atlanta and Virginia Beach but is currently on the hunt for a full-scale production facility in the southeast. "It's crazy to work at a place where the sky's the limit," Ford adds. "New Realm is happier making things the hard way as long as it's good."
This summer might be the "summer of spirits" for New Realm, having now expanded their vodka and bourbon and other spirits offerings beyond the brewery/distillery walls. It was something the New Realm had always planned to do when the time was right.
Recently, we asked New Realm co-founder Carey Falcone about the spirits distribution expansion. "It all happened a little in reverse," he says. The demand was there before we went big with it, where I thought we would launch and build demand."
Time works in your favor sometimes. It certainly does for whiskey.