The 2012 and 1996 vintages of Philipponnat Clos des Goisses will be the first prestige cuvée Champagnes to be sold via La Place de Bordeaux when they make their debut tomorrow.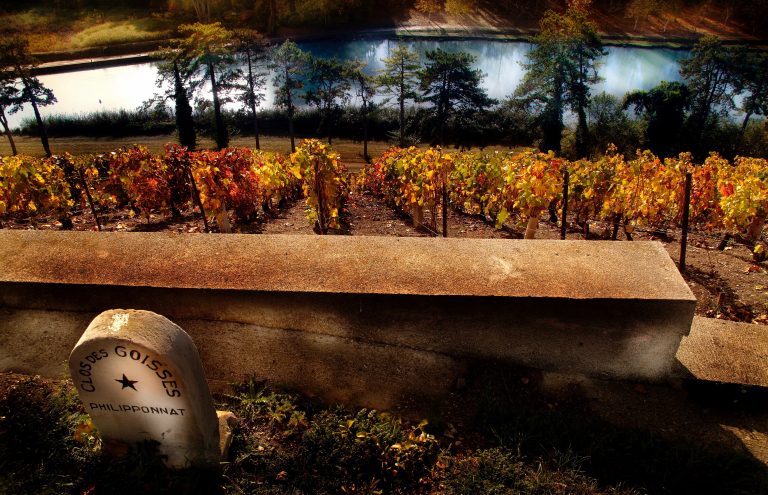 Though small, the release is likely to send ripples through Bordeaux, Champagne and the broader fine-wine world.
On 21 September, one of the oldest and most famous Champagne houses, Philipponnat (present in Champagne since 1522), will release two vintages of its iconic Clos des Goisses, undoubtedly one of the world's greatest wines.
This first release will be small and only four negociants have been selected for an allocation. The wines will undoubtedly sell out almost instantaneously.
The two Champagnes chosen for this first release are the exceptional new 2012 vintage of Clos des Goisses (arguably the best vintage in the last 20 years) and the still rarer late-released 'LV' (long vieillissement) millésime 1996. Both were disgorged this spring (in April and March respectively).
I was lucky enough to visit Philipponnat last week during the harvest of the 2021 Clos des Goisses itself, to taste these exquisite and exceptional wines and to talk with proprietor Charles Philipponnat about the timing and strategy for their release on la place.
Interestingly, if perhaps unsurprisingly, it was la place that came to Philipponnat rather than Philipponnat to la place. But, crucially, Charles Philipponnat tells me, it was they who ultimately chose both their courtier and the four negociants to whom they have entrusted an allocation of the new releases.
Those allocations are small so as not to disrupt long-standing relationship with existing distributors.
The aim of the project is two-fold:
to broaden further the already impressively global distribution of Clos des Goisses (with a distribution in 45 countries already); and, no less significantly,
to achieve a still finer-grained allocation of their wines to the true champagne-lover (the French word amateur captures this better but is practically impossible to translate), to restaurants and to the hotel sector.
Charles Philipponnat talks about this in terms of the capilarité that la place can offer. This, too, is not easily conveyed in English. Essentially, he means, the capacity to take a given allocation and to partition it in such a way as to place smaller quantities of each wine in the hands of a larger number of clients.
And the overall aim of that, of course, is to ensure that these precious and rare wines are, ultimately, drunk and appreciated. As such the hope is to deploy the considerable resources that la place has to offer to reinforce rather than to change in any significant way the long-standing strategy of the house.
What is clear, particularly after tasting the wines, is that they deserve their place on la place alongside the very best that Bordeaux has to offer.
For Charles Philipponnat, the 16th generation of his family to direct the property, Philipponnat's wines, above all Clos des Goisses itself, are somewhat closer in conception and philosophy to the leading crus of Pomerol than they are to the typically much larger volume production of the left-bank classed growths.
These are wines sensitively crafted from their specific and distinct terroirs that seek to capture their singular expression in each vintage.
The result is a unique style that is at the same time supremely vinous, intense and concentrated and yet profoundly fresh and dynamic. The vines themselves are harvested relatively late and at full maturity to capture as much potential for complexity as possible.
There is typically no malolactic fermentation so as to lock in as much natural freshness and acidity as possible and, in so doing, to balance the natural power of the terroir, building in the process the tension and poise that is the very signature of Philipponnat. And the wine-making is respectful and non-interventionist, with somewhat lower oak usage than previously and, in general, low dosage.
This style finds its purest and most supreme expression in Clos des Goisses (as indeed in the very rare micro-cuvée of Clos des Goisses, Les Cintres, released last in the 2010 vintage).
The first vintage of a Champagne bearing the name Clos des Goisses dates from the early 1950s. But its history pre-dates even that. For Clos des Goisses was, in fact, both the first Clos and the first single-vineyard Champagne to be vinified separately – first, by the Bouché family of Mareuil-sur-Ay from the 1880s until the 1930s and then, from 1935, by the Philipponnat family following its acquisition.
The name itself was coined in the early 1950s by the founder of La Revue du Vin de France, Raymond Baudouin, a great admirer of the grands crus of Burgundy.
In keeping with that reputation and that association, Clos des Goisses has consistently provided the very best evidence for the argument that the greatest Champagne comes from the greatest (single) terroirs, rather than from a blend of vineyards and a blend of terroirs.
It is perhaps the most vinous of all of the great Champagnes and there is little doubting the singularity and exceptional character of the terroir it expresses.
The vineyard is the largest Clos in the appellation, at 5.83 hectares; it slopes steeply downwards to the Marne river valley with an inclination of up to 45 degrees; its exposure is pure South and, as such, it is generally regarded as the warmest vineyard in the entire appellation – perfect for the Pinot Noir that thrives on its thin soil over the pure chalk bedrock beneath.
It is hardly surprising that Peter Liem should refer to it as "arguably the greatest vineyard site in all of Champagne".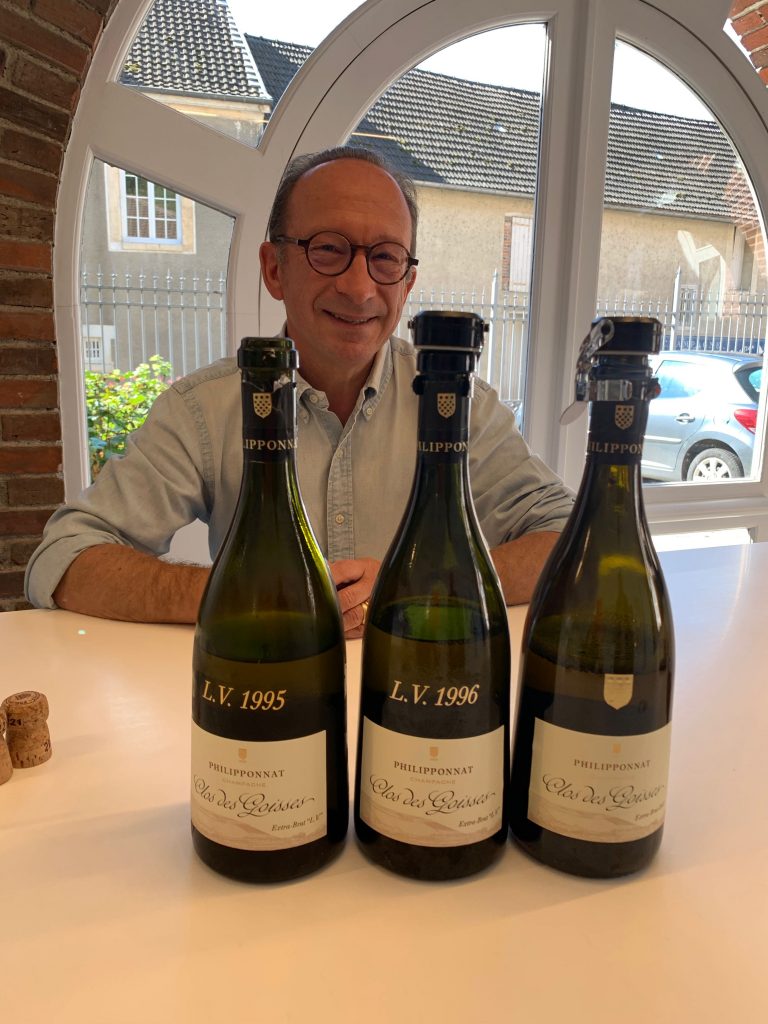 Tasting Notes
Clos des Goisses 2012 (61% Pinot Noir; 39% Chardonnay; pH 3.08; 13% alcohol; no malolactic fermentation; blended and bottled in May 2013; disgorged in April 2021; 60% aged in Burgundian oak barrels; 40% in stainless steel; dosage 4.5 g/l; 13,296 bottles).
An extraordinary Champagne crafted from an extraordinary wine. This, the most vinous of Champagnes, certainly lives up to its reputation in this near perfect vintage – a vintage Charles Philipponnat regards as the strongest and most complete in over twenty years as Director of Maison Philipponnat.
The ripest vintage since 2000. An incredible wine of incredible complexity, even at this very early stage. One of the most structured Champagnes I have ever tasted with a wonderful evolution across the palate – a work of great architectural complexity forged from its the pure chalk terroir.
On the nose a fabulous combination of primary, secondary and even tertiary notes – white truffles and the fleur de sel from the chalk alongside the bright, vibrant fresh plump raspberry fruit and beautiful, delicate, soft and gentle floral elements – elderflower above all and elderberry pressé too.
This is intensely powerful but subtle and elegant, perfectly balanced, tense, poised and sapid. It glides and dances as it fans out over the palate, with a lovely hint of tannin that offers bite and grip in the mid-palate, bringing the wine back to its spine and preparing us for that very slow, tranquil tapering finish. Intensity without any hint of fatness. Restrained perfection; a wine of incredible potential.
Clos des Goisses 'LV' 1996 (The LV stands for long vieillessement – late-released after 25 years; bottled in 1997; disgorged in March 2021; dosage 4.5 g/l; around 900 bottles in total).
A very special wine and a very special release. Charles Philipponnat tells me that although this was widely regarded at the time as the vintage of the century, many of its most feted wines have actually aged more rapidly than was anticipated, losing their freshness in the process. Nothing could be further from the truth here.
Great intensity, yet great focus and precision, with a fabulous sense of youthful energy, lift and dynamism. Dark, intense, truffle and mushroom notes – black trompette de la mort and morilles – with that signature fleur de sel note again coming from the chalk bedrock and bringing with a vibrant minerality.
But we also have bright floral notes, hints of camomile and bergamotte, apple and quince as well as roasted coffee bean. Tense and lively, yet pure and focussed, this is incredibly concentrated whilst being perfectly balanced and almost diaphanous on the seemingly endless finish. Utterly sublime, captivating and quite ethereal.