The South Shields-born executive chef of The Ritz London on searching for missing partridges during a royal banquet, being inspired by The Galloping Gourmet, and why foie gras and Yquem is the perfect match.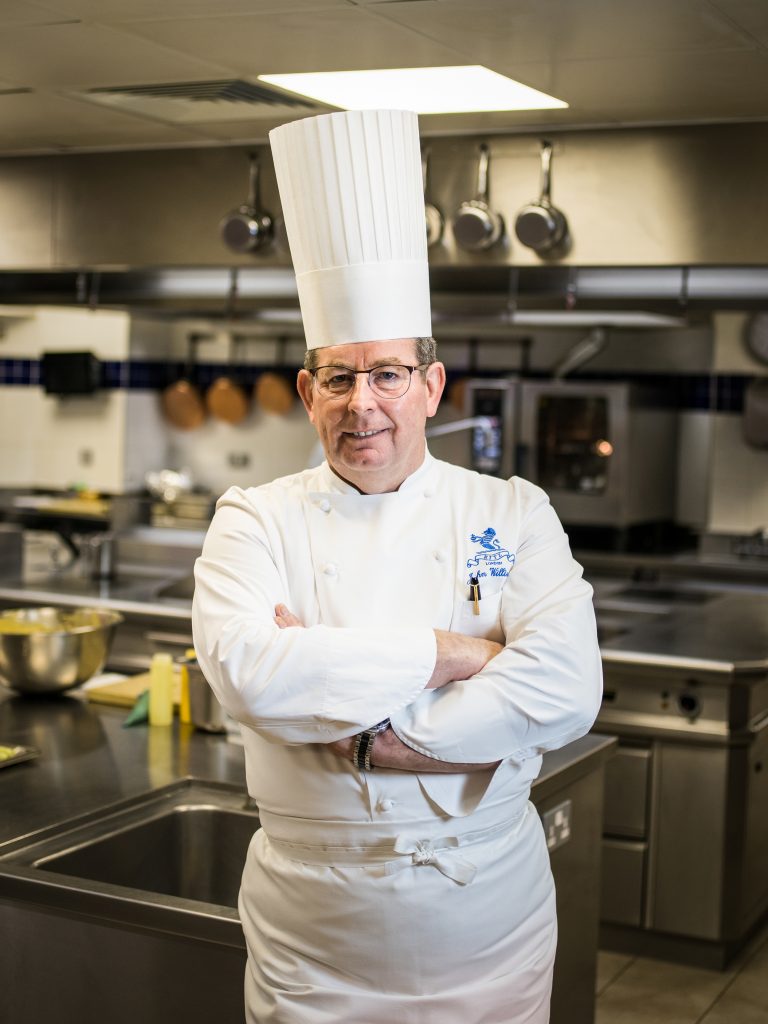 Describe your earliest food memory….
Stealing Farley's Rusks from my younger twin siblings and eating them under the bed when I was three. A few years later, when my dad was out catching fish, my mum asked me to help her with the Sunday lunch by preparing the Jersey Royals. When I'd made the mint sauce, she gave me four of the biggest potatoes with melted butter on top, which is one of my favourite things to eat to this day. When they're in season my team have to hide them from me so I don't devour them.
Did you always dream of becoming a chef or did you fall into it?
I grew up watching The Galloping Gourmet and Graham Kerr intrigued me. He was a very charismatic character and used to invite the most beautiful ladies in the audience up try his dishes while he enjoyed a glass of wine. He always had a huge grin on his face and it made me hungry to be part of that world. From the age of 14 I was allowed to go to college one day a week to be taught how to cook by a professional chef. 
What is it about the catering industry that has kept you hooked?  
I love making people happy – there's no better feeling. I'm in a fortunate position to be the executive chef of The Ritz, so I get to chat with our guests after service – it's a thrill to think that you're making people happy – that's what hospitality is all about. The higher up you get the more enjoyable the job is. Cooking is a tough industry though – you can't cut corners or it will have a knock-on effect on the flavour of your dishes. It's all about a lot of simple tasks done well.
What is the dish that you have created that you're most proud of?
My langoustines à la nage, made with jumbo Scottish langoustine tails, which is a dish I've been refining for 30 years. The inspiration for it came from fishing trips with my father, who used to treat me Dublin Bay prawns. I used to suck on the claw meat like a lollipop.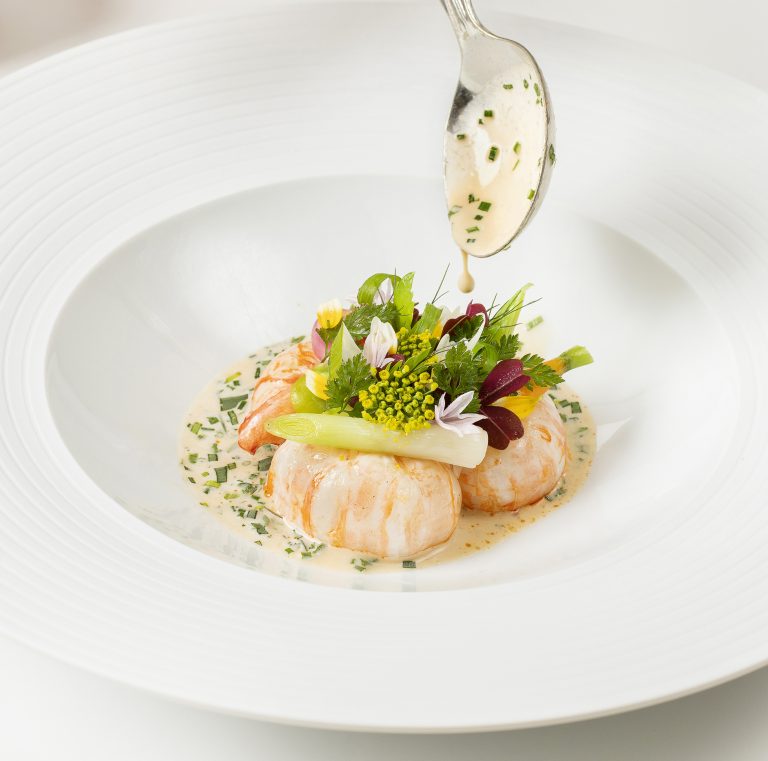 I cook the langoustine for a minute-and-a-half in salt water and make a sauce from the shells with a splash of white Burgundy and Noilly Prat vermouth, reducing it down then adding lemon juice, lemon verbena, whipped butter and a touch of cream to thicken it. I place the trio of tails on the plate and pull the claw meat out with tweezers, finishing the dish with lemon verbena, tarragon, and cauliflower purée topped with fennel, carrot, radish, celery and baby leeks. The dish is delicate to preserve the beautiful flavour of the langoustines.
What is your ultimate food and wine match?
Château d'Yquem and foie gras. My favourite experience of the pairing was at Chevre d'Or in the south of France, which is built into the side of a mountain overlooking the Riviera. I can't remember the vintage of Yquem, but it was unctuous, fresh and fragrant with a long finish. It harmonised perfectly with the richness of the foie gras, which was served on brioche with a Sauternes jelly.
What is the most memorable meal you've ever had in your life?
When I was 24, my boss took me on a gastronomic tour of France that included La Maison Troisgros and Maison Pic, the highlight of which was lunch at Georges Blanc in Vonnas followed by dinner at Restaurant Paul Bocuse in Collonges-au-Mont-d'Or – these guys were culinary gods and they made a real impression on me. It was bucketing it down when we arrived at Georges Blanc, so the maître d' ran out with umbrellas. The restaurant was housed in a beautiful building full of tapestries and object d'art. There was a TV crew filming during our visit.
Our feast included a 'terrine gourmand' made with layers of foie gras, artichoke, chicken and truffle, set in a jelly, which blew my mind. We were also served a stunning crayfish dish and Bresse chicken with morels, which I still rate as the finest in the world, enjoyed with lashings of Burgundy.
I remember thinking the food felt light-years ahead of what we had in the UK. The meal ended with local cheeses and samples of the puddings from the restaurant's two dessert trollies. I missed Bocuse at dinner, so went to see him the next day – we enjoyed a Kir Royale at 10:30am. He tapped me on the head in what felt like a blessing, telling me that achieving success in the catering industry is a marathon not a sprint.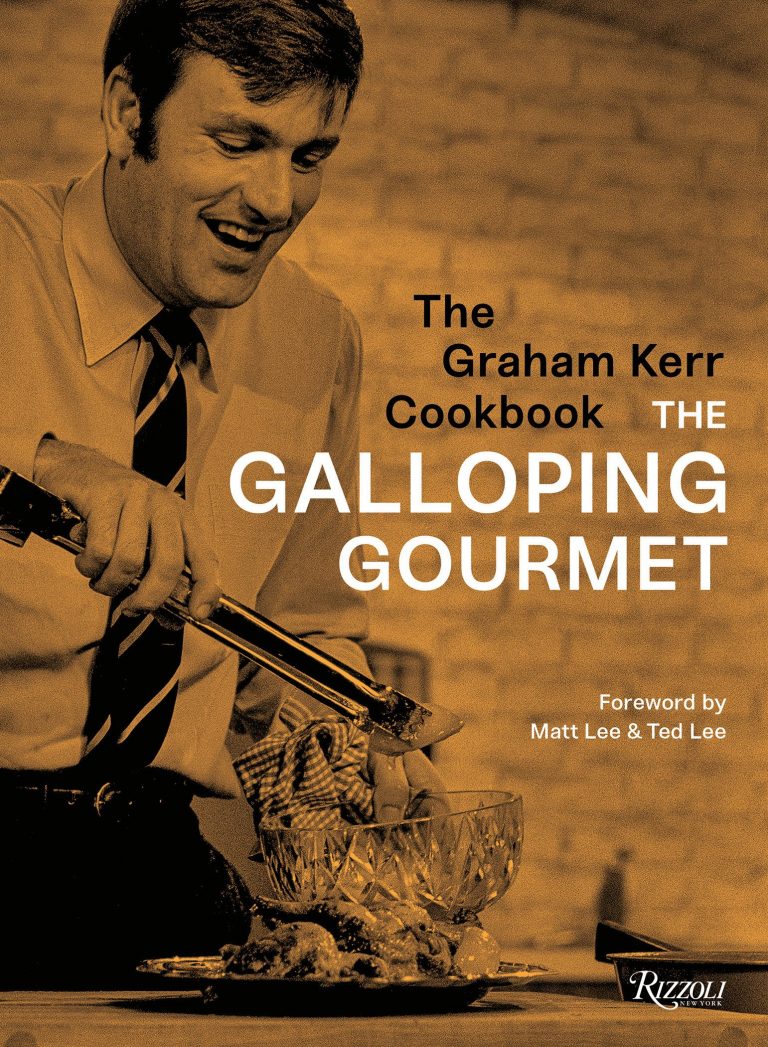 What's the weirdest thing you've eaten while on your travels?
Live ants at Noma in Copenhagen. I didn't think I was going to like them but they had an intense citrus flavour that was quite pleasant. I don't think I'd eat them again though…
Who is your culinary hero and why?
Auguste Escoffier – my cooking technique is based on his culinary principals. Too few chefs in the UK acknowledge that we are where we are today because of him. I'm a disciple of Escoffier – we have a lot to thank the French for. Escoffier was very forward thinking. In order to stay relevant to today's diners we have to cook in the classic style but with modern touches.
What's the biggest blunder you've made while on the job?
Around 35 years ago, while in my previous job, we were preparing our first plated banquet for the Queen and I was second in command. We had to do roast partridge for 90 people, which is a fiddly dish with a lot of elements, so just about the worst thing to serve at a banquet. The team started plating up and after a while we ran out of birds but the plates kept coming, so I went downstairs to collect them from the hot plate, walking slowly so as not to arouse suspicions.
I couldn't find them, so ran to the kitchen and asked the sous chef to fling a few partridges into the fryer. I felt sick and was mentally writing my resignation letter. I went back to the hot plate for a final look and found the birds there. I scooped them up and sprinted back to the plating room. I was later told that the Queen didn't get wind of the mistake, but it felt like the end of the world at the time.
What is your favourite season for food?
Spring without doubt, but I also love autumn. There's something so exciting about spring, when you get the first veg of the year, and your first lamb, wild salmon and beautiful shellfish. It's lovely seeing these elements come to life – spring morels are one of the most divine things ever. In spring I'm always looking forward to what's coming into season next.

What single ingredient do you rely on most in the kitchen?
Vanilla, as we use a hell of a lot of it in our pastries. We use fresh Madagascan vanilla pods in our puds – vanilla is the foundation of pastry in the way a good stock is the foundation of savoury dishes. We use it to create layers of flavour.
What is the best bottle of wine you've ever drunk?
It's hard to choose just one – I've enjoyed fine bottles of Château Haut-Brion with Sarah Jane Staines, who used to run the Royal Academy of Culinary Arts, as it was her favourite red. I have three bottles of Cheval Blanc that I'm waiting for the right moment to open. Drinking Sassicaia at the estate with Marchese Nicolò Incisa della Rocchetta was a very special moment. When it comes to Champagne, Krug is hard to beat but I also love Taittinger Comtes de Champagne and Laurent-Perrier Alexandra Rosé.
What is your guilty pleasure food?
French fries sprinkled in salt –if I see them on the hot plate it's hard for me not to eat them. And chocolate of any kind as I have a sweet tooth.
If you had to only eat one country's cuisine for the rest of your life, what would it be and why?
It would have to be French – British cuisine today is so much better that it was, which I put down to the French chefs working in the grand hotels in the '70s who taught us how to cook. Guys like Michel Bourdin at The Connaught, the Roux brothers and Pierre Koffmann were all great teachers who highlighted the importance of working with quality ingredients.