Trying to figure out what wines to serve with Thanksgiving Dinner this year? You're not alone. Below is a fool-proof guide to finding great wines in all budgets for your holiday meal.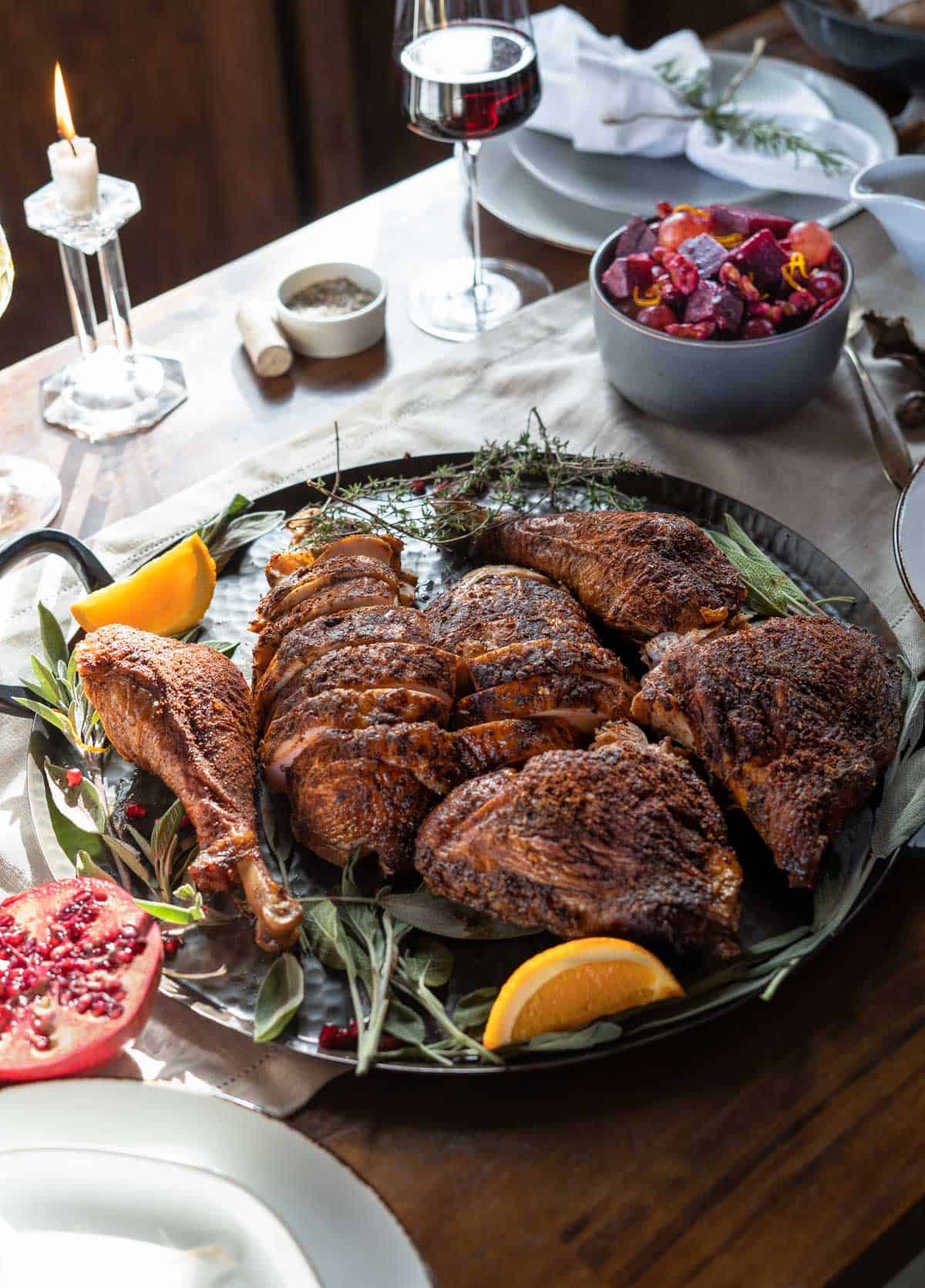 I am a traditionalist when it comes to this meal, and my advice has remained the same year after year. The most important piece of advice I offer –> don't stress about the wine! I mention this on TV appearances, social media, and here. Instead, focus on a variety of options based on the meal.
[feast_advanced_jump_to]
Thanksgiving Wine Pairing & Buying Guide
Right around this time of year many people begin to stress about what wines to pair with Thanksgiving dinner. If you're one of those people, you're not alone. It can be daunting when thinking about what to pair with all of the many dishes that go into this celebratory meal. Why is this?
When it comes to your standard traditional Thanksgiving dinner you have a lot going on (spice, richness, fruit, salty, sweet, savory) and you're typically not eating each dish in individual courses, but instead loading it all up on one plate, so it is not necessary to bother finding a wine for each individual dish. It's a smorgasbord of flavors. Really good, comforting flavors. And the star of the day is really the company you're with, not any particular wine you might open.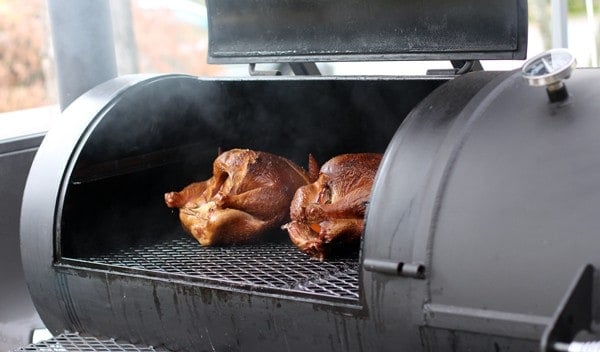 Pairing Wine with Thanksgiving Turkey
"But what about the turkey?" they ask. Again, there's no need to burden yourself with the question, "What wine should you pair with the bird?"
My answer to that is to not worry about the turkey, for it's honestly not the star of the meal and contains somewhat neutral flavors compared to all the vibrant side dishes (unless you're making this Smoked Turkey. In that case, yes, yes it is the star of the show!).
Think about Thanksgiving as an ensemble performance with an all-star eclectic cast. Focus more on the flavors that dominate the entire meal (cranberries, gravy, sweet potatoes, stuffing) and finding wines to simply help balance out those flavors.
Cooking a beef roast? Check out our full wine guide on pairing with your holiday prime rib roast.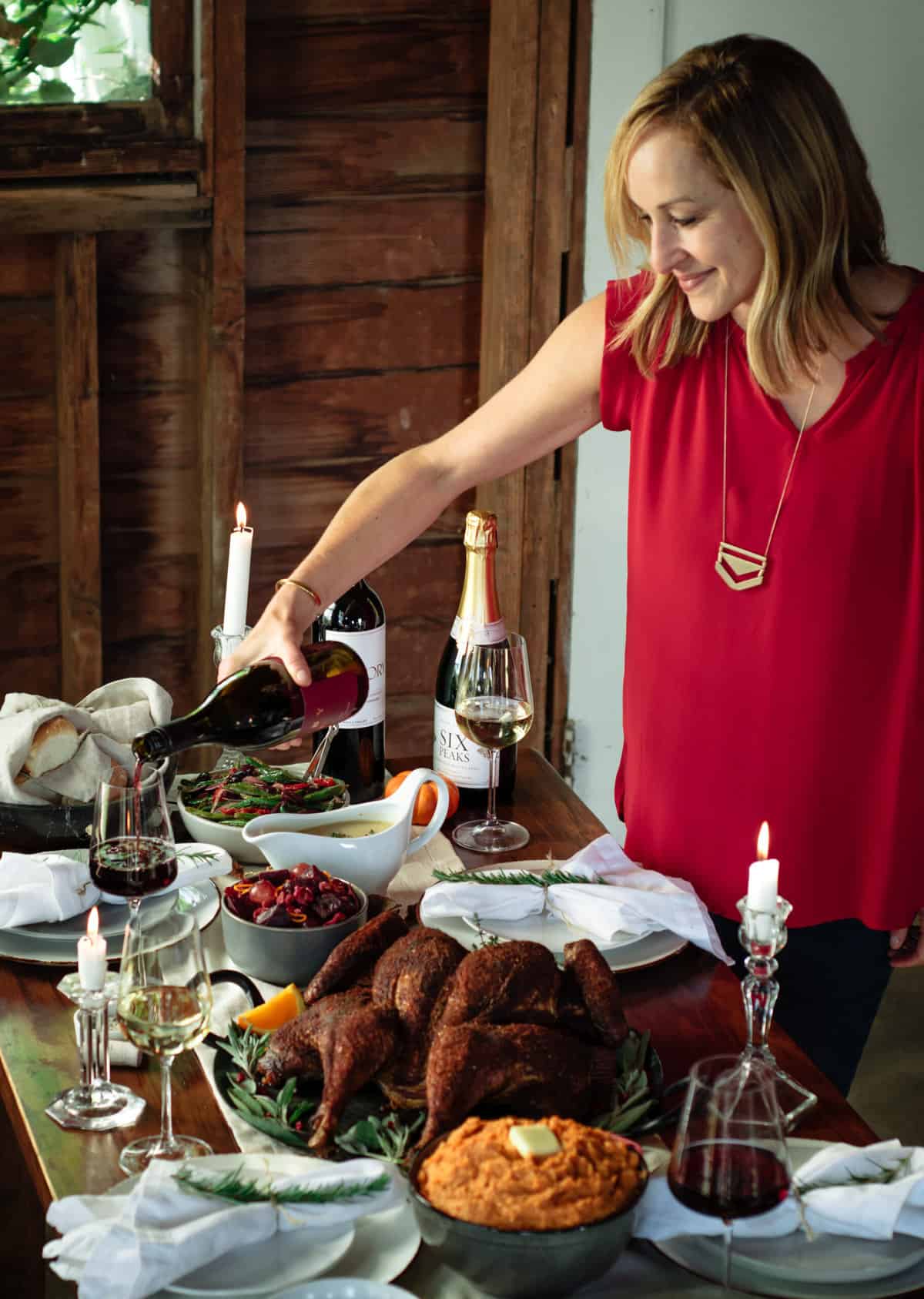 I've spoken at events and news television programs throughout the years on pairing wines with holiday food, and preparing for my first engagement allowed me to sit down and really think about ways to keep things simple, straightforward, and stress-free. I live in Oregon, in the Willamette Valley, so I tend to focus on local and value-driven options for the upcoming holidays when I can.
So for Thanksgiving I offer a few standard recommendations to have at your dinner. They are by no means your only options, but intended as solid and carefree recommendations that should pair nicely with your dinner without taking away from the multitude of flavors of the day.
One final note: I like to keep it domestic for this holiday. But if that is not accessible or desirable for you I offer some widely available alternatives that should be available wherever you are, at any budget.
Sparkling Wine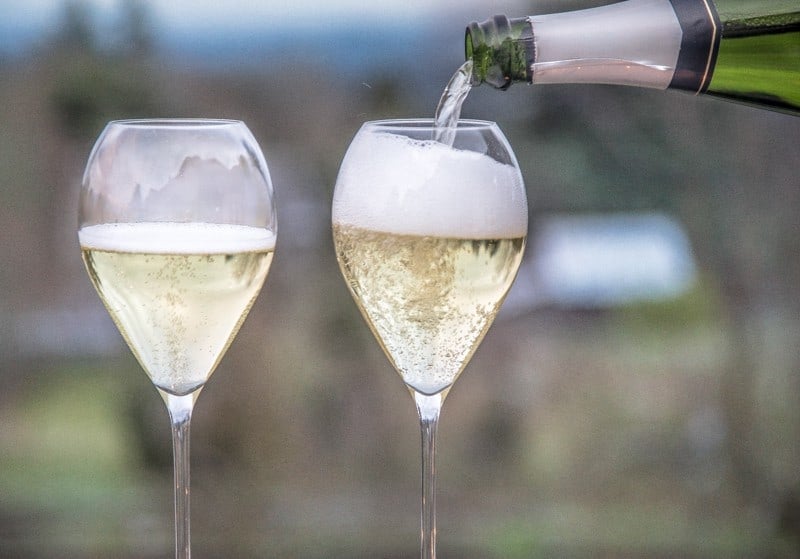 I always begin any dinner or event (whether Thanksgiving, a holiday party, friendly get together, brunch, or just a Friday night) with sparkling wine. It is festive and goes with everything, especially appetizers and salty foods, and you don't have to spend a lot of money on it. You can find some really good bubbly between $10 – $20.
For great values seek out Cava from Spain, or if you want something elegant and amazing for a great value seek Prosecco Superiore DOCG (this isn't the same as something labeled just Prosecco). Seek the ones that specifically say "Prosecco Superiore" and have the initials DOCG after it. You should find great options in the $15-$25 range. You won't be disappointed.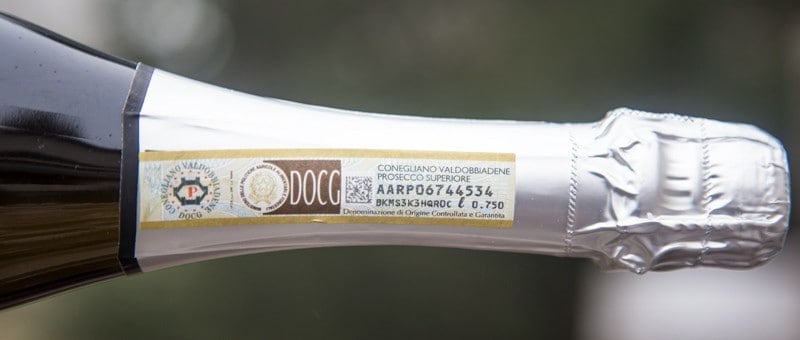 If it's something domestic you want, Gruet Blanc de Noirs is one of my favorite budget-friendly sparkling, at around $14, or splurge with Soter Brut Rosé from the Willamette Valley priced at around $60. A few others to consider:
NV Gruet Blanc de Noirs (New Mexico) ~ $14
NV Nino Franco "Rustico" Prosecco Superiore (Valdobbiadene Prosecco Superiore, Italy) ~ $18
Argyle Vintage Brut (Willamette Valley, Oregon) ~ $25
Soter Brut Rosé (Willamette Valley, Oregon) ~ $60
Riesling
Can be dry or sweet, spicy, fruity, and fragrant. Think comfort flavors (honey, apple pie, baking spices/nutmeg/cinnamon) and look for a dry to semi-sweet Riesling. If you are buying a German Riesling look for a Kabinett or Spätlese (because these are drier options).
Riesling is a great wine for folks who are new to wine and would be fun to offer. It will pair well with the sweetness of the potatoes, richness of gravy, and has enough acidity to stand up to stuffing, turkey, etc. Great Rieslings can be found domestically in Oregon and Washington as well as the Finger Lakes region of New York.
Yamhill Valley Vineyards Estate Riesling (McMinnville, Oregon) ~ $18
Brooks Willamette Valley Riesling (Willamette Valley, Oregon) ~ $20
Chateau Ste. Michelle Riesling (Columbia Valley, Washington) ~ $12, or their Eroica ~ $15
Fox Run Dry Riesling (Finger Lakes, New York) ~ $18
Chardonnay
For starters, Chardonnay is crowd pleaser. So it won't be too hard to make people happy with this choice. The grape is a blank canvas that can take on characteristics from where it's grown and made. They can be steely, bright, light and clean, or rich and buttery. They can be fruity and they can be spicy. Unoaked versions will have a zestiness that allows it to pair nicely with side dishes that may have a bit of a kick to them, and the richer, oaked styles will go great with those mashed potatoes and the turkey.
You can't go wrong with Chablis, from France, for something fresh and minerally. Or go domestic for a more fruity style or those with that oak backbone.
Stoller Family Estate Dundee Hills Chardonnay (Dundee Hills, Oregon) ~ $20
Etude Chardonnay, Grace Benoist Rance (Carneros, California) ~ $28
Stags' Leap Winery Chardonnay (Napa Valley, California) ~ $28
Kundsen Vineyards Oregon Chardonnay (Oregon) ~ $45
Rosé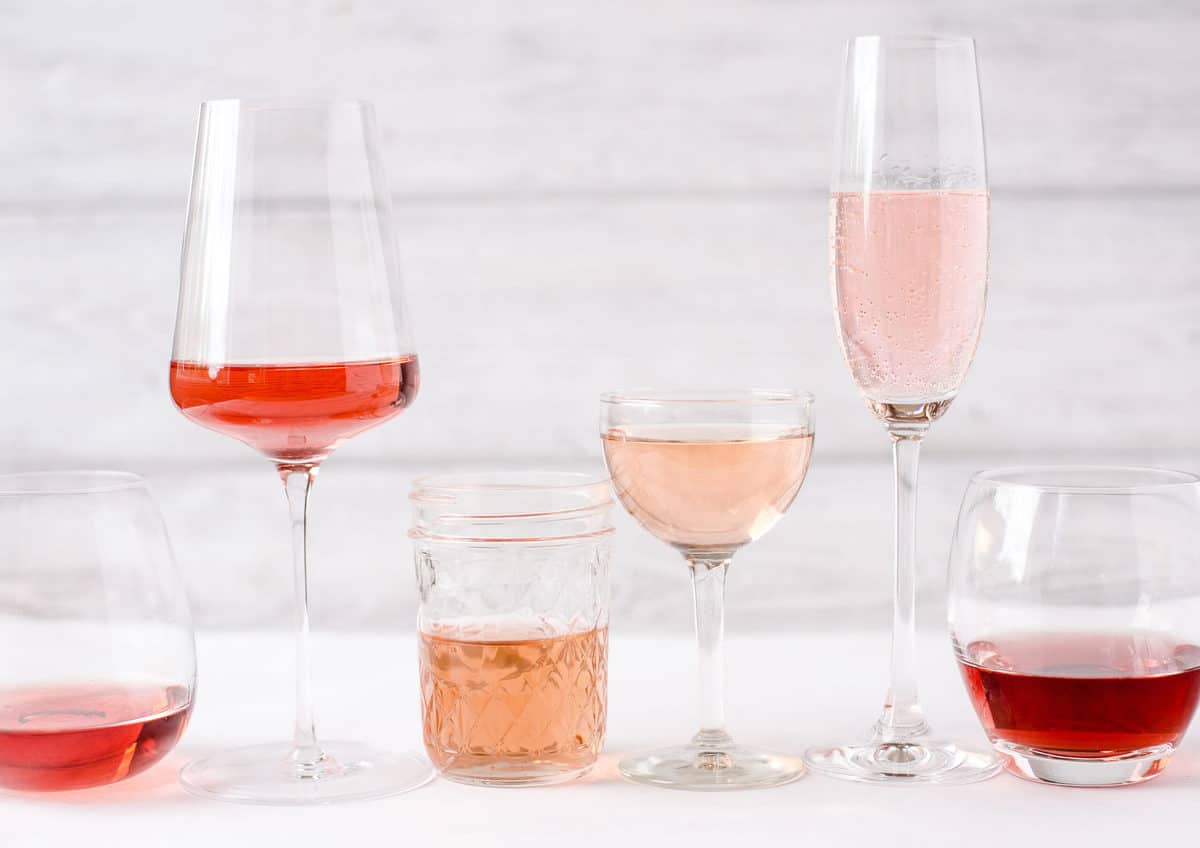 Rosé is known for being a summer wine, but I enjoy dry rosé year round. This is the wine for all seasons. Rosé everyday, my friends! Light, refreshing, and fruity most rosé's are amazingly food friendly and will pair well with almost everything you are likely to have on your table this Thanksgiving. True story.
Rosé availability will vary from state to state as many are consumed throughout the summer months and often sell out by fall. That being said, you can still find some great rosé wines that your favorite wine store may have stocked up on! Look for dry rosés for your Thanksgiving dinner.
Pinot Noir
A traditional favorite for Thanksgiving, and if you're in Oregon, like me, then there is no shortage of great Pinot Noir around these parts. Pinot Noir is a solid option because they typically have bright fruit (think cherries, cranberries, raspberries) and earth (think mushrooms) so they are perfect for the fruity, earthy, and spicy foods of Thanksgiving. This wine will compliment, without overpowering, almost all of the flavors of the day. Gotta go Oregon for this!
Planet Oregon Pinot Noir, by Soter Vineyards (Willamette Valley, Oregon) ~ $20
Ruby Vineyard Pinot Noir (Willamette Valley, Oregon) ~ $30
Stoller Family Estate Pinot Noir, Dundee Hills (Dundee Hills, Oregon) ~ $35
Penner Ash Willamette Valley Pinot Noir (Willamette Valley, Oregon) ~ $40
Zinfandel
A red wine that is bigger and bolder than Pinot Noir, but still maintains a balancing effect on many traditional dishes. Zinfandels can be rich, but not very tannic, with great fruit and spice characteristics and still compliment richer flavors of the day (like sweet potatoes, gravy, and roasted vegetables). This would be a great option for your guests who may be looking for a heartier wine with deeper flavors.
Berryessa Gap Zinfandel (Yolo County, California) ~ $20
Seghesio Sonoma Zinfandel (Sonoma County, California) ~ $20
The Pines 1852 Zinfandel (Columbia Gorge, Oregon) ~ $35
Robert Biale "Black Chicken" Napa Valley Zinfandel (Napa Valley, California) ~ $45
Armida Winery "Maple Vineyard" Zinfandel (Dry Creek Valley, California) ~ $44
Dessert Wines
Look for Ports, Cream Sherries, Sweet or dessert Rieslings, and even more Sparkling Wine.
How Much Wine Per Person?
The standard bottle of wine is 750 milliliters (or approx. 25 oz). The standard serving size is 5 oz per glass. This works out to roughly five glasses of wine per bottle. Plan on guests drinking at least 3-5 glasses throughout the duration of this lengthy holiday dinner (from appetizers at arrival, to the dinner, and the wait time before dessert).
So to be on the safe side, it's best to plan on at least one bottle per wine drinker (considering the fact that some guests will not be partaking in this delicious beverage, so think about those who *will* be drinking wine).
Thanksgiving Recipes with Wine Pairings
Check out our full round up of Thanksgiving Recipe Ideas for the grill or smoker. It ranges from entrees to sides and desserts.
Sommelier Tips for Pairing Wine with Thanksgiving Dinner
Have at least three wine options: sparkling, a white, and a red. Don't worry about having too much. There are plenty of things to do with leftover wine (should you have any), like making mulled red wine.
Magnums are great for larger crowds (6-10 people).
Sparkling wine goes with everything (it's true). EVERYTHING!
Don't stress about finding the perfect wine for every dish. There's no such thing… well, except for sparkling!
You don't need to spend a lot of money on Thanksgiving wine. The flavors of the food and the company of your family and friends are the focus of this day. You can find good wines in *any* budget.
Most importantly, have a fantastic time enjoying good food, good wine, family and friends. After all, that's what this day is about, giving thanks for the good in your life (and hopefully that includes the awesome people you choose to surround yourself with… or those you're forced to be with!).
Happy Thanksgiving Everyone. I'm ridiculously thankful you're here, and still reading this post!
Mary (a certified sommelier and recipe developer) and Sean (backyard pitmaster) are co-authors of the critically acclaimed cookbook, Fire + Wine, and have been creating content for the IACP nominated website Vindulge since 2009. They live in Oregon on a farm just outside Portland.
---
This post was originally published November, 2009. Edited and updated November, 2023.
The post Thanksgiving Wine Guide appeared first on Vindulge.