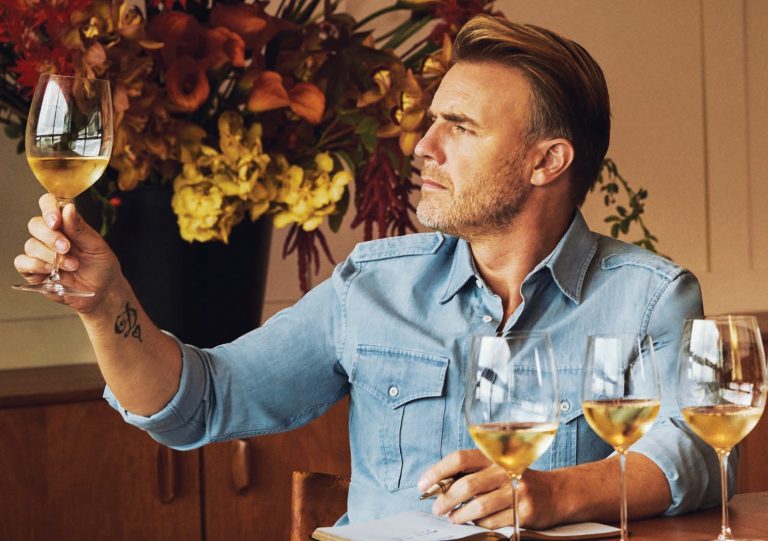 Take That frontman Gary Barlow is the latest pop star to launch a wine label, with help from Benchmark Drinks. He tells Lucy Shaw about the challenge of creating the right blend, and why piano keys are integral to the brand's identity
GARY BARLOW is ageing like a fine wine. When we meet at his music studio in Notting Hill on a sunny Monday morning in September, the 50-year-old singer-songwriter is casually dressed in jeans, trainers and a black-and- white striped T-shirt, which make him seem all the more boyish. As do the jars of vintage sweets and candy-striped paper bags dotted around the studio, which will feature in his forthcoming tour; Music Played by Humans.
Born in Frodsham, Cheshire, in 1971, Barlow is one of the UK's most  successful songwriters, having penned 15 number-one singles and three  number-one albums, and sold over 50 million records worldwide. So beloved is he by the British public, that he beat John Lennon and Paul McCartney to be voted the country's greatest songwriter in a 2009 poll.
While big egos and the music industry go together like oysters and Champagne, Barlow is refreshingly down to earth and humble about his achievements. A restless  spirit, during lockdown he launched a popular online video series called The Crooner Sessions of daily duets with the likes of Robbie Williams, Chris Martin and Sir Rod Stewart. Lockdown also gave him the chance to put an idea he'd been turning over in his head for years into action – launching a wine brand. In doing so he's following the lead of fellow musicians-turned-winemakers Sting, Sir Cliff Richard, and most recently, Kylie Minogue, who is enjoying stratospheric success with her wine range, which began with a Provence pink and has grown to include  everything from an organic Cava and a Margaret River Chardonnay to a Merlot from the Languedoc.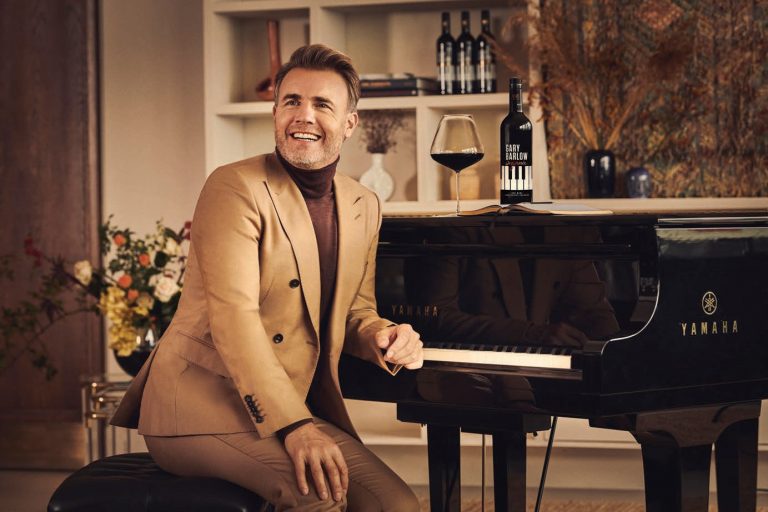 A TASTE FOR WINE
Barlow admits to being a latecomer to wine, having stuck to Coca-Cola while gigging in working mens' clubs as a teenager before joining Take That in  1990. He developed a taste for wine in his mid-twenties, when a friend opened his eyes to the delights of Bordeaux. Keen to learn more, he started buying claret from Berry Bros. & Rudd and attending its legendary lunches, where the wine flowed like water. "My plate had 12 glasses around it – it was a long day and an early night," Barlow says of a particularly boozy BBR lunch where a wine from his birth year was uncorked.
"I've done the whole thing of buying Bordeaux for the kids from their birth year and tucking the bottles away. When I first got into wine I only drank French and didn't entertain the idea of anything else, but I fell in love with Italian wine while on holiday there, and I'll try anything now." These days he requests Margaux on his tour rider, which helps him to wind down after a gig. "When you're on stage you go from zero to 180 in seconds. It's the best feeling in the world, and it's why I still do it," he says. "When you walk off stage you're in the back of a van, then you're back at the hotel with three people, which feels really weird, so a good glass of wine afterwards makes your shoulders drop. It's always after a show for me – I can't sing on a drink. I like the social element of wine; it's a celebration of being alive."
A perfectionist by nature, when it came to his own wine, Barlow knew his reputation would be on the line if the liquid inside the bottle didn't cut the mustard. "We're at this point where everyone partners with everything – Elton John is the new face of Uber Eats – it's the norm now, so it comes  down to who you want to be partnered with and what you want to be remembered for," says Barlow, who will be targeting his range at his fan base. "Wine is part of growing up and shared experiences. Where you've travelled informs your palate and that's translated into the wines I've created," he says.
The man tasked with turning Barlow's dream into liquid gold is celebrity wine supremo Paul Schaafsma of Benchmark Drinks, who has become the  go-to guy for stars keen to branch out into the aspirational world of wine. His previous success stories include Sir Ian Botham's three-tiered wine range and Kylie's wines.
"My band has been with me since the nineties, so working with a new company is a big deal for me. It was clear within 10 minutes of sitting down with Paul and his team that they knew what they were doing. It's a very dangerous thing putting your name on something – it's got to be bloody good, and it's got to be done properly," says Barlow.
The pair were put in touch by a mutual colleague, and quickly dived into the selection process to determine the kind of wines Barlow wanted to create. His first tasting session with Schaafsma was a baptism of fire, involving dozens of samples of the bestselling wine brands in the UK.
Schaafsma says: "We had a fantastic blind tasting session. I asked Gary about the wines he loved and about his experiences with wine. We only wanted to make a wine together if there was an authenticity to it. It had to be something Gary blended and put together that reflects his style. That's the only way to collaborate on this kind of project.
"We talked about some of the places he'd lived in the past, like the south of France and California, so my mind immediately went to Napa Valley Chardonnay and Cabernet."
The Golden State detour was brief, however, as Spain won out from a line-up including drops from Australia, New Zealand, South Africa, Argentina and Chile. "We tasted through a broad spectrum of wines in the £8-£10 bracket. Less than 2% of wine sold in the UK off-trade is over £10 a bottle, so to be  relevant to our audience we needed to be looking at that price range," says Schaafsma.
Having settled on Spain as the country of origin for the range, when it came to the white, Barlow wanted something refreshing and balanced, with  vibrant but not too prominent acidity. Schaafsma was impressed by how clear Barlow's vision was for the red wine that he wanted to create. "He wanted to make a foodfriendly red that had a generosity of fruit on the palate and good length," says Schaafsma. "The fruit had to show through, there had to be a solid midpalate and richness coming through to give the wine a velvety mouthfeel."
Based on Barlow's top three reds from the blind tasting, it was apparent that rather than a single-varietal wine, the best results would come from creating a blend. Schaafsma got on the phone to a number of Spanish producers and struck upon Peninsula Viticultores, run by Sam Harrop MW and Andreas Kubach MW, as the perfect partner for the project. Specialising in both wine production and marketing, the modus operandi of Peninsula is to create fresh, clean, contemporary wines with a sense of place that appeal to consumers.
Having been fully briefed about the style of red and white Barlow was keen to create, Harrop set about finding the ideal Spanish sites from which to source the grapes, settling on certified organic plots in Castilla planted with old, low-yielding, dry-farmed bush vines. The white is a blend of Verdejo and Viura from the 2020 vintage.
Fermented in stainless steel at a low temperature, the wine spent two months on its lees before bottling. The result is a zesty, refreshing, white with aromas of lime, pear and anise. The red, meanwhile, is a blend of 2020 Tempranillo and Syrah that doesn't see oak to allow the purity of fruit to shine through. Juicy and fruit-driven, it offers notes of wild berries, rosemary and a hint of chocolate. According to Harrop, the medium-bodied red displays "beautiful balance between the fruit concentration, fresh acidity and fine tannins", making it a versatile food wine. The pair are due to go on sale at 460 Morrisons stores in the UK on 11 October priced at £8 a bottle.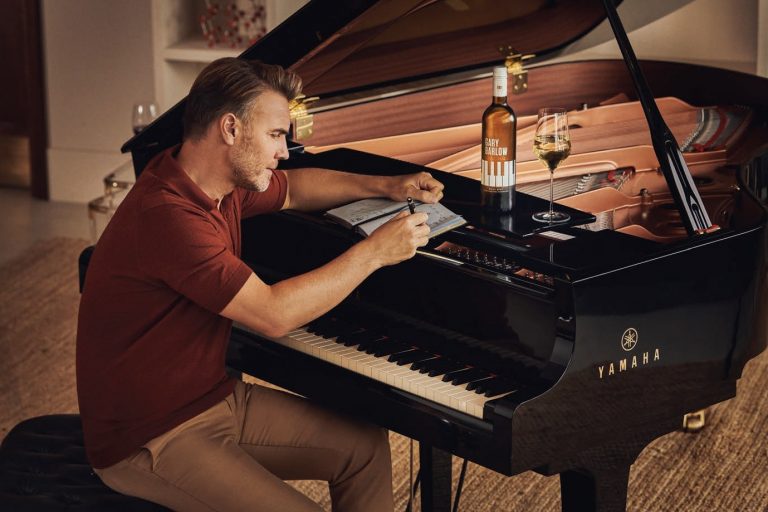 TIME TO CHOOSE
Before the wines were bottled, Barlow was presented with three variations on the blend, made with different combinations of percentages. Without knowing it, both he and Schaafsma chose the same white and red as their top two.
"The blending session was exciting," Barlow says. "I'd like to think that when people think of me they think of quality, so when they drink my wine it's got to taste good. It was really interesting comparing the wines side by side – I was surprised by how different they tasted from having had just a small percentage change in the blend.
"Choosing the red was a no-brainer, as it was the wine that really stood out in the line-up as the most delicious – it's a lovely lunchtime red that you can have a couple of glasses of without feeling too heavy. It's fresh and vibrant."
The singer has enjoyed the steep learning curve of immersing himself in a new industry. "I love how passionate people in the wine trade are – I'm  drawn to that. When people are passionate about what they do you want to be a part of it. It was interesting to be able to see first hand the amount of thought and hard work that goes into making wine. It's been brilliant to be a part of it."
As well as choosing the final blend, Barlow also created the label-free bottle design featuring piano keys, including the G and B keys around the neck. He had shelf standout in mind when devising the design. He perused the wine aisles of his local supermarkets to scope out the competition, grateful for the anonymity a face mask provided. Having walked down a few aisles, he felt confident that he could create an eye-catching design that would pop on the shelf.
"The aim was to create something exciting and modern that looks different to what's already out there, and has the look and feel of a brand," says Barlow. "I wanted piano keys to feature in the design, so we played with a few different versions. Simplicity is the hardest thing to achieve. I wanted the wines to look classy but also to stand out on the shelf."
Running with the musical theme, when the bottles are lined up next to each other they form a piano. Given the growing popularity of organic wine with eco-conscious consumers, the word 'organic' appears prominently in orange script beneath Barlow's name on the bottle. Both he and Schaafsma are on a mission to make organic wine accessible to everyday consumers. Schaafsma says: "Everyone would love to buy more organic wine, and these wines are made in a style that's going to appeal to a lot of consumers; it's organic wine that people can afford and go back to."
Schaafsma has already secured his organic grape supply for future vintages with the view of expanding production in line with demand. "If the fans get in touch on social media from certain parts of the world asking for the wines then we'll make sure that they're available to them. Down the track we might look at doing a premium range too."
Being able to create an accessible, affordable organic wine brand was a win-win for Barlow. "When it became an option to make organic wines I knew we should go for it. Being organic doesn't take anything away from the wines when it comes to the taste, which is the danger. I was really pleased that we could go down the organic route, as you don't want to be releasing a car that runs on diesel with your name on it."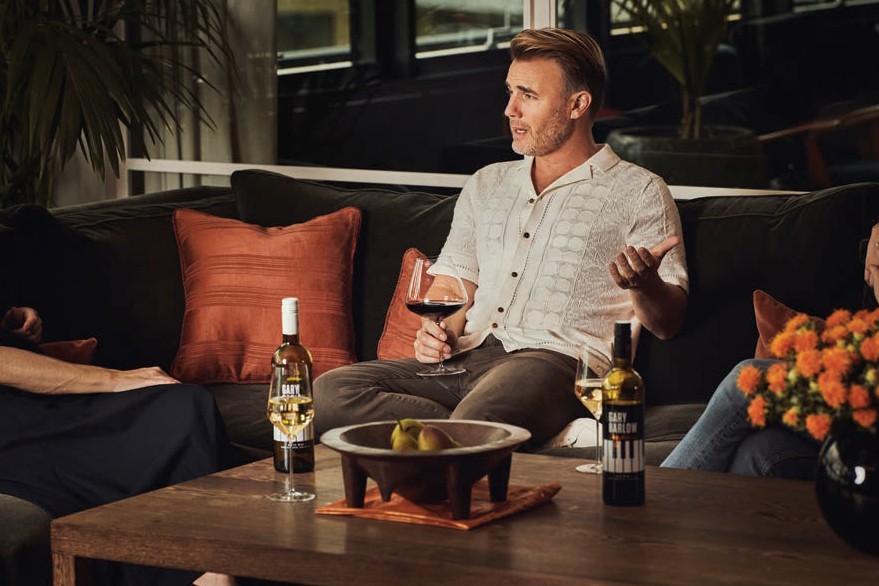 TIME FOR GIN?
Barlow isn't ruling out adding an English wine to his range, but seems keener on making a gin first, as he's a big Negroni fan. "It's a hobby for me, so I want to have some fun with it. I like gin, so it could be a gin that comes next. I'm not going to only stick to wine," he says.
As for music, Barlow admits that he enjoys the thrill of the chase, creatively speaking. "I'm never happy," he says. "I am on the surface, but with music you're never finished – you've never written the ultimate song in your mind. You probably have, but you're always looking for the next thing. It's just one of those industries where you're always chasing something and I love the chase."
An important part of his creative process is changing his working environment. "I try to make sure my approach to writing songs is different each time, whether that's where you're sitting or being in another country, or having a different view – I'll do anything to change the environment – that way it gives me a new perspective each time I sit down to write."
Gary Barlow at a glance
Singer-songwriter Gary Barlow OBE was born in Frodsham, Cheshire, on 20 January 1971.
Having taught himself how to play the piano, he started gigging around Wales and the north of England aged 11 at working mens' clubs.
In 1990 he joined boy band Take That along with Mark Owen, Robbie Williams, Howard Donald and Jason Orange, which was created by music mogul Nigel Martin-Smith.
Barlow is one of the UK's most successful songwriters, having written 15 number one singles and 26 top ten hits, and sold over 50 million records worldwide.
He met his wife, Dawn, in 1995 when she was working as a dancer on Take That's Nobody Else tour. The couple have three
children together: Daniel (21), Emily (19) and Daisy (12).
During his career, Barlow has won six Ivor Novello awards and seven Brit Awards, writing for everyone from Elton John to Shirley Bassey.
In 2012 he organised the Queen's Diamond Jubliee concert at Buckingham Palace, performing a song he co-wrote with  Andrew Lloyd Webber. Later that year he was awarded an OBE for his service to music and the arts.
He made a cameo in Star Wars: The Last Jedi playing an X-wing fighter in the film.
Barlow's latest album, Music Played By Humans, was released in November 2020.