Two Birds has launched a new range of premium ready-mixed craft cocktail pouches to appeal to a  younger demographic of cocktail drinkers.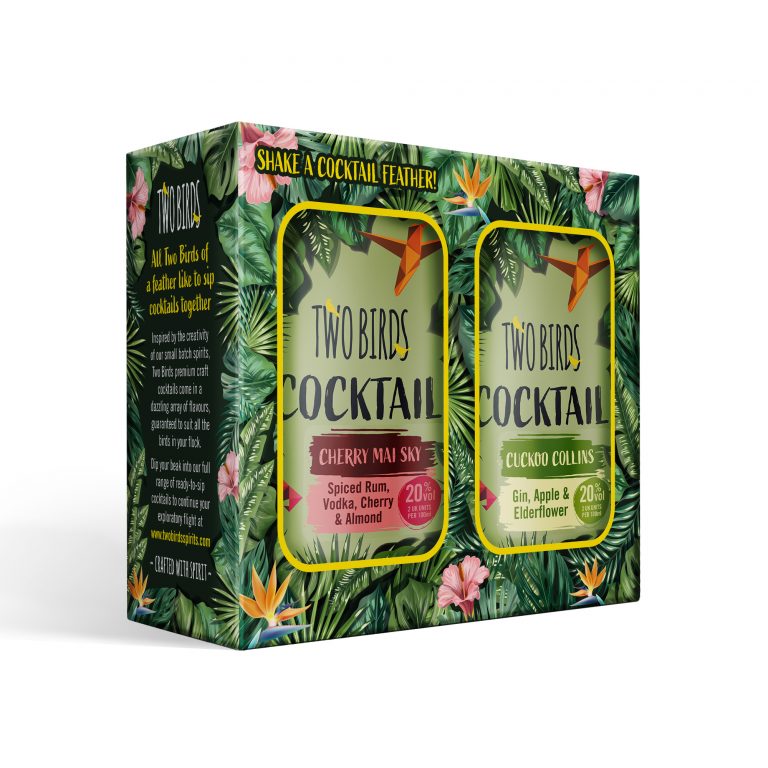 The Two Birds pouches are available in eight flavours: Cuckoo Collins, Cherry Mai Sky, Yellow Hammer, Nestroni, Parrot Punch, Feathertini, Gold Crested Gimlet and the Fan-Tailed Foghorn. The cocktails are mixed at the Two Birds distillery in Market Harborough and have been designed in "eye-catching" packaging to appeal to those entering the cocktail category as a way to trade up while still enjoying the convenience of the ready-to-pour sector.
Two Birds head distiller, Simon Brannon, said: "This exciting range really puts the fun and flavour into ready-to-pour, delivering all the fantastic flavours that Two Birds fans know and love, while providing an opportunity to attract a new younger audience to the category. The vibrant and sustainable packaging is designed to maximise on shelf standout providing eye-catching sales opportunities."
The Two Birds cocktail pouches will be available from the British Honey Company website, with wider roll out to retailers from mid-October in four gift box options retailing at £24 each – ideal for people looking for high quality cocktails that are simple and convenient for all occasions.
Each gift box contains four 100ml cocktail pouches with two varieties available in each pack and paired for flavour.
The pairings included in each set are: Two Birds Fan-Tailed Foghorn & Nestroni; Two Birds Cuckoo Collins & Cherry Mai Sky; Two Birds Feathertini & Parrot Punch; Two Birds Yellow Hammer & Gold Crested Gimlet.