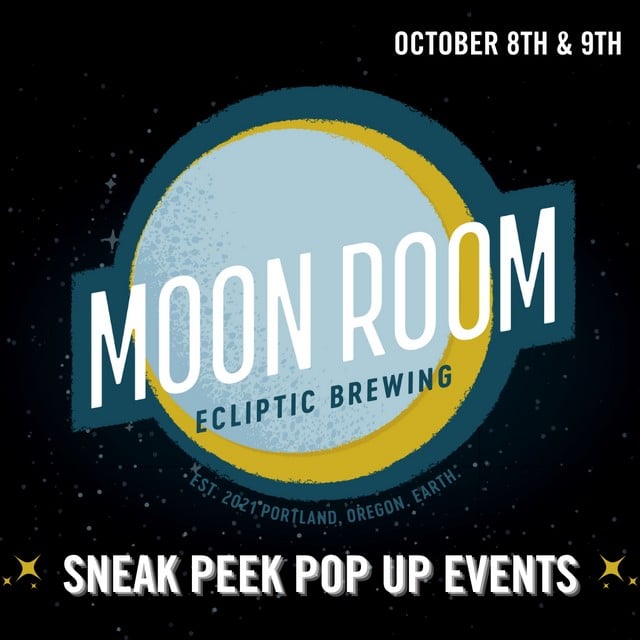 As construction continues on the inside at the forthcoming Moon Room from Ecliptic Brewing, the brewery will host an outdoor sneak peak in the coming weeks. The Moon Room Sneak Peek Pop-Up will take place from 5:00-8:00pm on Friday, October 8th and Saturday, October 9th.
Each evening Ecliptic Brewing will feature delicious new items from its Moon Room food truck under the guidance of Chef Dru, exclusive Moon Room beers, a rare beer tasting from Ecliptic's cellar, and a chat with Ecliptic's Owner and Brewmaster, John Harris.
Tickets to each session are now on sale at $25.00 ($27.54 after fees) each and can be purchased here.
Moon Room Sneak Peek Pop-Up Ticket Includes:
Sandwich + side. Each order will come with two different sandwich halves from our Moon Room Head Chef, Dru! (Please indicate vegan or non-vegan on your ticket).
Two (10oz) beers of your choice, including Moon Room exclusive taps.
One (5oz) rare beer taster from our cellar
A chat from our owner, John Harris
Gratuity
Moon Room Sneak Peek Pop-Up will be held outside on the Moon Room patio and will have a limited number of tickets available each night in order to allow guests to spread out. The indoor taproom is still under construction and is not yet open to the public.
This is a cashless event. Please bring a card for any additional beverage purchases. In case of heavy rain, the event will be cancelled and tickets will be refunded.
Ecliptic Brewing Moon Room
930 SE Oak St.
Portland, OR 97214
About The Author