This year Wines of Argentina has embarked on a new mission to incorporate a commitment to gender diversity and equality in every aspect of its work. It has already signed up to the UN's Women Empowerment Principles, and has also launched a new platform to support women working in wine. But its ambition doesn't end there.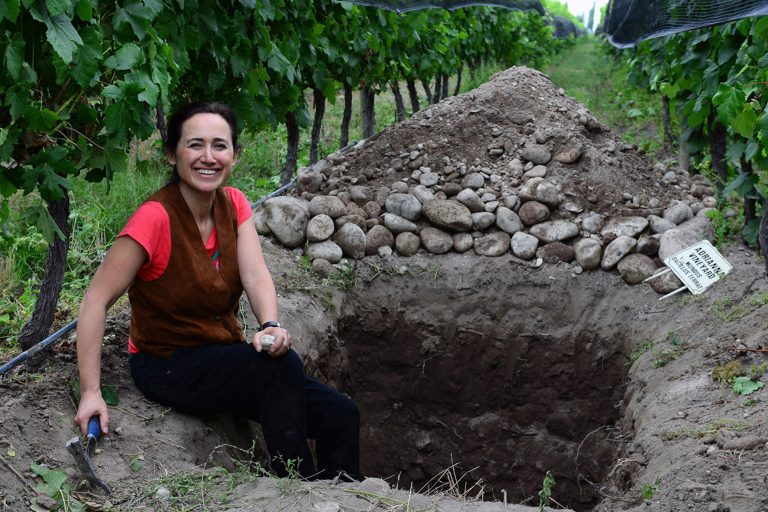 It wants every organisation in Argentina's wine industry to be actively pursuing gender balance, offering support and guidance where needed to ensure women, and men, are given equal opportunities to succeed.
As part of Wines of Argentina's mission, we are talking to some of the most prolific female figures in Argentine wine on how they are affecting change within their organisations.
In this latest instalment of our Women of Argentina series, we speak to Dr Laura Catena, a fourth generation winemaker, managing director of the Catena Zapata winery, and founder of the Catena Institute of Wine.
Catena joined her father, Nicolás Catena Zapata, at the family business in 1995, the same year she founded the Catena Institute of Wine with the vision of making Argentine wines that could "stand with the best of the world". In 2013, Catena played a vital role in the founding of Argentina's Sustainability Protocol – established by Bodegas de Argentina – an organisation that works to reduce the Argentine wine industry's environmental impact.
Beyond her family's winery, she also runs her own operation, Luca Winery in Mendoza, is a mother of three, and a practicing part-time physician of Emergency Medicine in San Francisco.
We caught up with her to find out more about how she is working to address gender inequality, the importance of recruiting women to top positions, and her hopes for the future of Argentine wine.
To read our first in the Women of Argentina series with Wines of Argentina's CEO, Magdalena Pesce, click here.
Wines of Argentina has recently set up a Women's Platform and subscribed to the (UN) Women's Empowerment principles (the first wine trade body to do so). What do you think this will achieve for Argentina's wine industry and why is it important? 
I very much support this initiative because it is about taking action! I find that there is a lot of talk out there about climate change, sustainability, social justice and women's empowerment, but talk is cheap, and what we need is action. This is a very good first step by Wines of Argentina on behalf of the Argentine wine community.
What changes have you seen over the course of your career in terms of gender equality and opportunity in wine?
For sure the world of wine is better for women today than it was 25 years ago when I started working with my father.  There are so many more talented female winemakers, viticulturists, winery owners and leaders in the industry.  Despite what people might think because of the "Latin Macho" stereotype, I have seen the careers of women advance rather quickly in Argentina. Our country faces constant turmoil, and diverse teams of men and women are better at creative work, which is what is needed in the face of adversity.
Why is it important to make successful women visible and acknowledge gender?
When I started my work career in medicine and in wine in the 1990's, I didn't want to be treated any differently because of my gender.  I didn't want to be invited to a conference to be "the one female speaker". I've changed my mind about this. I think that the young men and women of today need to see and learn from women in top positions. Women need to show the world that diverse teams and women in power are important for a sustainable future. I am part of a leading women-in-wine group called the 'Magnum club' which includes the likes of Maggie Henriquez, Marilisa Allegrini and Stevie Kim. I learn so much from them and have come to realiSe why men have historically spent so much time in all-male groups. I think there is a future for same sex and co-ed professional groups – each plays an important role.
How have you worked to address gender diversity within your own institutions? 
The most effective policy I have found is to put women in top positions. When men and women within an organisation see that a woman can get promoted to a top job because of her good work, then it follows that very capable women are motivated to work hard; they see opportunities ahead.  What's interesting is that men prefer to work in diverse teams as well. So having a diverse staff is one of the best recruiting tools a winery can have. I suspect that organisations with a lack of diversity are having a hard time recruiting the best people.
Can you explain a little about your involvement with the Bodegas de Argentina's Sustainability Protocol and its purpose?
Two decades ago I started to become very interested in the topic of sustainability. How do we leave our planet in the same or better shape than we got it? It is a question that brings desperation to me and to so many people.  I wanted to certify all our wines as sustainable and to impart a sustainability approach upon everything we were doing at Catena. I realized that there wasn't a sustainability code in Argentina, so together with our team at the Catena Institute we developed a protocol. Then we partnered with Bodegas de Argentina to create a protocol that could be used by all. Today, the Sustainability Protocol is used by many wineries and I hope that in the near future every winery in Argentina will be certified sustainable.
How is the Sustainability Protocol working to make gender inclusivity part of being certified sustainable?
The Sustainability Protocol requires that wineries measure their diversity and formulate a plan to improve it. This simple exercise of counting what percentage of women we have in every area helps us to see where we need to improve on diversity.
What advice would you give to other organisations looking to support gender equality and diversity? 
If every man and woman in your organisation feels that they have a skill-based and not gender-based chance at advancement, gender diversity is bound to improve. The most important action is to actually put women in top positions, but in order to do this, you must invest in women from the moment that they enter your organisation. Skills education and mentoring are the most important tools to improve diversity but also to hire and retain the best people.
What can men working in the wine industry do to support gender equality in the workplace?
The most important thing men and women can do is to take the time to get to know their employees and colleagues. You need to care enough to listen and give feedback.  Sometimes men are intimidated by a powerful young woman and perhaps they are reluctant to establish a professional relationship. We need to figure out a system for men and women to get to know each other as people in the workplace so that everybody gets an opportunity to shine and contribute.
Who are your biggest role models and why?
My father, Nicolás Catena Zapata. He has lived through so much, losing his mother to a car accident when he was 18, going to school in NY (Columbia) for his graduate school in Economics when he barely spoke English, running a business while there was 1,000 % inflation in Argentina, and during a military government, and then starting a wine revolution in Argentina that made fine Argentine wine and Malbec known around the world. My father did all this while also managing to mentor a whole generation of young people, including me and my siblings, to help us do our best work. My father helps others shine and never acts with his ego in mind. He is the best role model I could have ever asked for.
Jancis Robinson: I met Jancis a long time ago when I was starting in wine. Jancis has managed to gather a highly principled team of people to report on wine and to push wine in a better direction. Jancis has championed so many causes: new regions, sustainability, old vines, small and big producers, wines in all price ranges. What I most admire about Jancis is that she always follows her principles and despite being such an important figure in the world, she takes the time to show kindness to all. I will tell you a personal story about me and Jancis. When I wrote my first book, Vino Argentino, I asked her to write the intro. She answered with a very kind email explaining that she didn't do book intros, not even for her dear friend Hugh Johnson. Jancis did not need to justify herself, but she did, because that's the kind of person she is – she doesn't want anybody to feel unnecessarily bad.
You have achieved so much throughout your career. What are you most proud of?
I think it's still to come. I haven't done it yet. After all, I'm only 53!
What advice would you give to anyone starting out in the wine trade?
Perhaps this is a bit cliché, but make sure that you work with people who are as passionate as you are about the job. And although money is important because we need to pay salaries and feed/educate our children, make sure that you work with people whose main goal is something other than making money.
Finally, what's your greatest hope/ambition for the future of Argentine wine? 
That every wine collector in the world has a bottle of Argentine wine in their cellar and that wine is still being made from the Adrianna Vineyard in 200 years.